ERC
European Research Council (ERC) Individual Supports of Frontier Research
The European Research Council (ERC) funds frontier research projects and the scientists who will carry out these projects by evaluating them solely on the basis of the criteria of scientific excellence.
The decisions taken by ERC are taken by the scientists in the ERC Science Council and the evaluations are made by the scientists who have a say in the field.
ERC supports a team of researchers and researchers who will work under a host organization. In this respect, it differs from other Horizon2020 programs.
There are no subject restrictions in ERC. Projects in fields such as science, natural sciences, mathematics, as well as Social Sciences, interdisciplinary or multidisciplinary fields can also apply to ERC calls.
The purpose of the ERC is to fund large-budget and high-risk/high-gain frontier academic research projects, which are often difficult to be funded through national programs.
The institution where the project will be carried out (university, research institute, private sector, etc.) is required to be established in an EU country or in an associated country like Turkey.
In addition, when funded by the ERC, the applicant researcher should commit to spend 50% of his/her time in Europe and/or associated country, even though he/she is not currently in Europe or associated country.
ERC offers 3 types of support in order to evaluate young and experienced researchers more fairly in their respective fields. These supports are "Starting Grant (StG)", "Consolidator Grant (CoG)" and "Advanced Grant (AdG)". The ERC has also added to its support the call for a "Synergy Grant (SyG)" in 2018 Study Program, where minimum two or maximum four researchers can come together and apply. Apart from these, ERC also offers "Proof of Concept (POC)" support, which is a special additional support for the principal researchers conducting ERC project.
Detailed information about ERC support can be found at the links below.
Researchers can apply to Starting Grant (StG) for 2020 coded ERC calls if they received their PhD between 1 January 2013 - 31 December 2017, to Consolidator Grant (CoG) if they received their PhD between 1 January 2008-31 December 2012, and to Advanced Grant if they do advanced research actively in last 10 years regardless of their PhD degrees.

In some special cases it is possible to extend these dates:
Childbirth (minimum 18 months for each child born, regardless of whether it is pre-or post-doctoral)
Military service, long-term illness or clinical training (as long as it can be proved by official documents)
2020 Call Calendar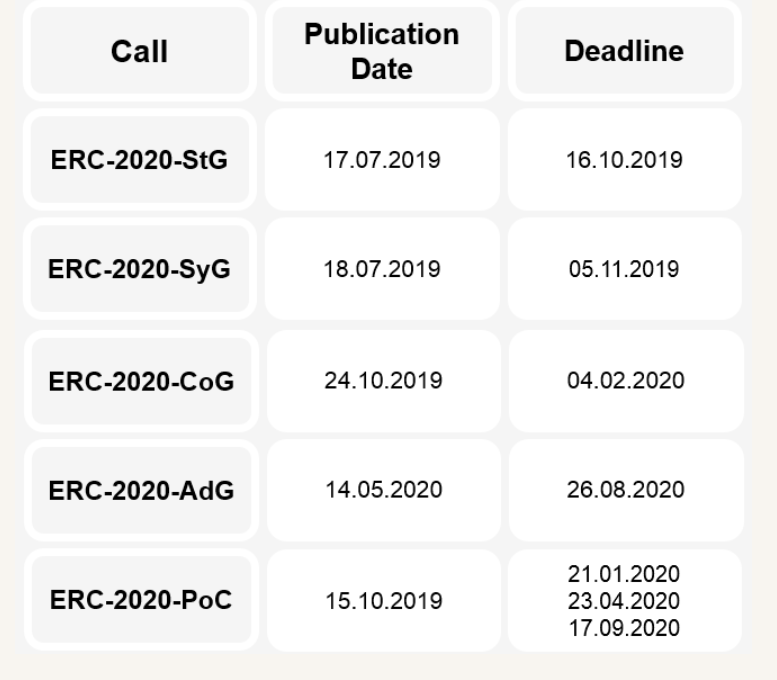 of Concept Grant calls, issued once a year, have 3 different closing dates. The calls are expected to open at about the same times and once each year. As long as the call is open, the application can be made. But call should be opened for investigators to begin preparations. It is possible for the researchers to get prepared for the calls to be issued in the coming years by taking into account the ERC's re-application rules and PhD dates and to receive support from TUBITAK EBAG program.
For further information on ERC support and policies, visit ERC's official homepage.
Funded Projects
Istanbul Bilgi University Department Of International Relations Faculty Member and director of the European Union Institute Prof. Dr. Ayhan Kaya was awarded the ERC Advanced Grant with his project "Nativism, Islamophobism and Islamism in the Age of Populism: Culturalisation and Religionization of What is Social, Economic and Political in Europe". ERC, Prof. Dr. With the support granted to Kaya's research project, "Advanced Grant" research support in the field of Social Sciences was provided to a university in Turkey for the first time. Click here for detailed information.