updated at:
published at:
Festival 408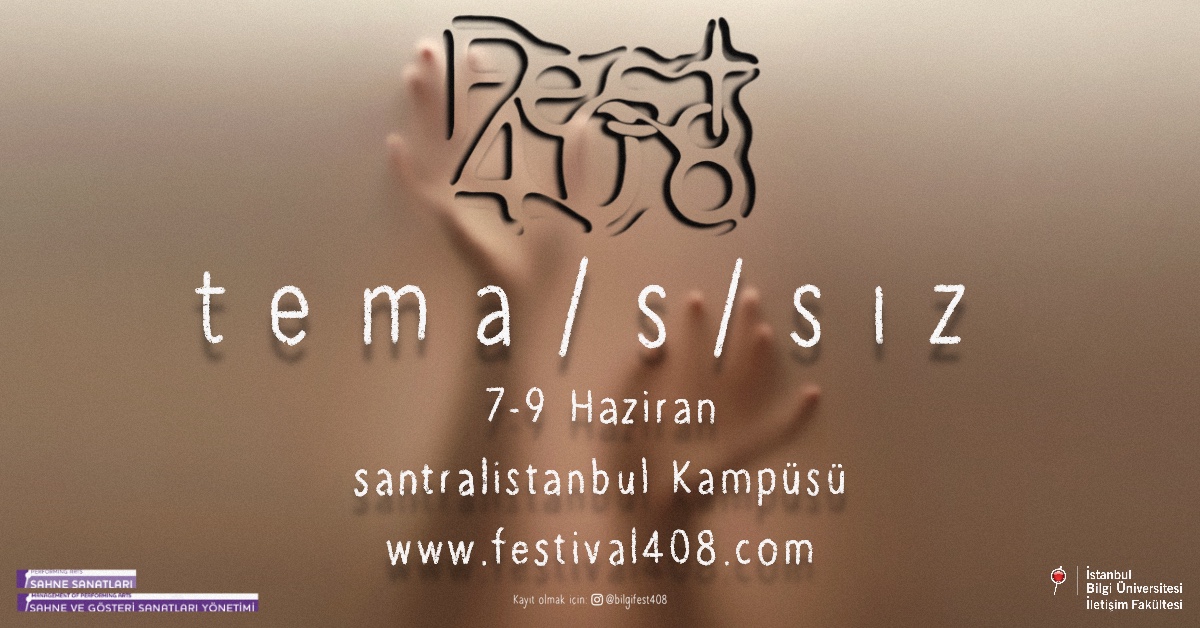 11th edition of Contemporary Performing Arts Festival festival408 organized by the students of İstanbul Bilgi University Faculty of Communication Management of Performing Arts Program and Performing Arts Track will take place on santralistanbul Campus between June 7-9, 2022.
Having taken place online during the pandemic, the festival events will once again take place face-to-face this year with the theme 'con-tent/tact/less.' The festival addresses the concept of 'contact' and the 'lack of contact' experienced during the pandemic as its 'content.'
In the festival where all creative, administrative, and technical processes including playwriting, choreography, directing, design, marketing, and web design are carried out by students, there will be the premieres of student performances, interviews, workshops, and concerts.
Date: June 7-9, 2022
Place: santralistanbul Campus
All events are free of charge and registration is required for interviews and workshops. In order to register, please click. Only a limited number of people can attend the events.
PROGRAM
June 7, 2022, Tuesday
12:00 Acro Yoga Workshop
Melike Göküstün and Musab Kendirci
Place: The lawn in front of E1
15:00 Contact with the Sector Interview
Zorlu Performing Arts Center Production Manager Mehmet Öğünç and Sound Engineer Berk Kula
Place: Energy Museum Control Room
16:30 Jazz Funk Dance Workshop
Tolga Cuğ
Place: E4-301 White Studio
19:30 Premiers I: Content
BİLGİ Management of Performing Arts Program graduation candidates
Place: Greenstudio
June 8, 2022, Wednesday
12:00 Playfulness and Invention: From Movement to Acting Workshop
BİLGİ Management of Performing Arts Program senior year student Ada Özsar
Place: E4-302 Black Studio
16:00 Contact with the Nature Workshop
Aylin Vartanyan
Place: The lawn next to Café Nero
19:30 Premieres II: Contact
BİLGİ Management of Performing Arts Program graduation candidates
Place: Greenstudio
June 9, 2022, Thursday
12:30 Contact Improvisation Jam
Talin Büyükkürkciyan
Place: E4-302 Black Studio
15:30 Premieres III: Contactless
BİLGİ Management of Performing Arts Program graduation candidates
Place: Energy Museum Seminar Hall
18:00 Mert Tunçmakas Concert
19:15 Buğrahan Çayır Concert
Place: The lawn behind Espressolab