updated at:
published at:
Graduation Ceremonies 2019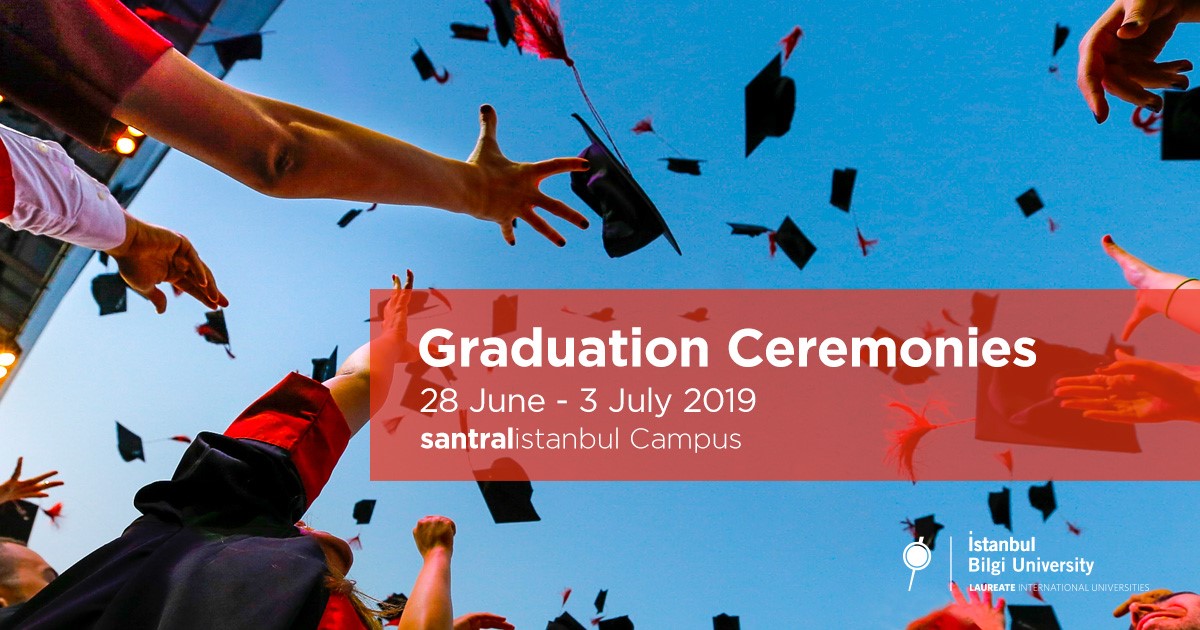 Date: 28 June-3 July 2019
Time: 19.00
Place: santralistanbul Campus

GRADUATE PROGRAMS candidates, please click here.

To attention of UNDERGRADUATE-ASSOCIATE DEGREE Graduate Candidates!
We kindly request our all graduate candidates to consider issues listed below for Graduation Ceremony to be held on June 28th - July 3rd 2019.
Participation to Ceremony:
Graduate candidate list covers students of 7th and 8th semester for undergraduate degree students, and 3rd and 4th semester students for associate degree students.
Application and payment of ₺100 for the graduation cap and gown shall be made online. No personal application shall be accepted. The name of students failing to complete his/her online application will not be included in the graduation ceremony list.
Candidates, who want to participate in the graduation ceremony are required to complete their application between May 13th-June 25th 2019 on "Cübbe Talebi/Gown Request" section clicking the "Flow Başvuruları/Flow Applications" link under the "Diğer Linkler/Other Links" title on the left hand side menu of SIS homepage.
Click for the Help Document.
Cap-Gown Delivery:
Cap and gown deliveries will take place between May 13-June 27, 2019 at 10.00-16.00 hours (on weekdays) only at santralistanbul Campus . No deliveries will be made during the graduation ceremonies.

Place of Delivery:
santralistanbul Campus, Activity Tent

Returning Caps and Gowns:
You may return your caps and gowns to tent in santralistanbul Campus after the graduation ceremony. The collected fees will be refunded within 15 days to the IBAN designated at the time of application. The deadline for returning the gowns is 16.00 on Friday, August 9th 2019.
Ceremony Program:
The agenda of the Graduation Ceremony of 2019 is as follows:
June 28th 2019, Friday
Vocational School of Health Services
School of Sports Sciences and Technology
School of Applied Sciences
June 28th 2019 Saturday
School of Advanced Vocational Studies
June 30th 2019, Sunday
Institute of Graduate Programs
July 1st 2019, Monday
Faculty of Business
Faculty of Architecture
Faculty of Health Sciences
July 2nd 2019, Tuesday
Faculty of Law
Vocational School of Justice
Faculty of Engineering and Natural Sciences
July 3rd 2019, Wednesday
Faculty of Communication
Faculty of Social Sciences and Humanities
School of Tourism and Hospitability
Students those who will participate to ceremonies are required to be present at assembly point 1,5 hour before starting of ceremony at the latest. (Points of assembly: ÇSM 401-402-403-404)
Students will leave their parents, and wear their gowns, and line up according to order of ceremony. Students are not allowed to bring their personal belongings at venue of ceremony and during ceremony.
Invitation:
Invitations will be sent to your e-mail addresses in digital form. Students can enter the ceremony area by only presenting their student IDs.
Transportation and Car Park:
Free shuttle services will be provided starting from 2 hours before the ceremony once in every 15 minutes from Beşiktaş (opposite of Naval Museum – next to Vakıfbank), Trump AVM rear parking lot, and from opposite of Halıcıoğlu Metrobus station to santralistanbul Campus, shuttle services will be provided after the ceremony as well. We recommend you to use to shuttle since parking space is limited at the campus.
For your questions: mezuniyet2019@bilgi.edu.tr