updated at:
published at:
Lecture from the Mixer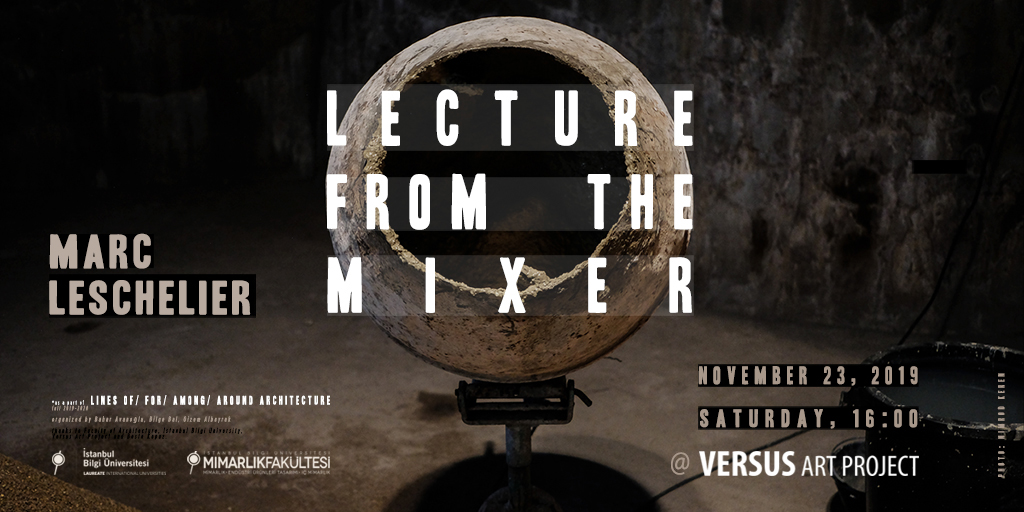 The lecture is organized by İstanbul Bilgi University Faculty of Architecture.
Speaker: Marc Leschelier
Date: November 23, 2019, Saturday
Time: 16.00
Place: Versus Art Project
The lecture will focus on the work of the French architect, Marc Leschelier, and on the attempt to build a more instinctive, direct and brutal architectural language, in which the territories of the useful and the useless, architecture and sculpture merge. These constructions, undetermined and potential, reflect, in their autonomy, the violence of their constructive process. Lecture from the mixer is a lecture that will use the concrete mixer as a starting point and a metaphor for the synthesis and the correspondence between disciplines in the constructive process.
Presentation will be held in English.
Marc Leschelier:
Marc Leschelier (1984) is an architect and educator. He's the founder of the Unbuilt Archive, an open-source archive specialized in radical architecture's texts and manifestos. He lives and works between Milan and Paris.
During the year 2017/2018, he was a fellow at the Villa Medici in Rome. His architectural projects, carried out in three different mediums - actions, models and prototypes - lead to the development of an architectural language by an incrementation of experiments. Thus, the work explores the possibility of a spontaneous formation of architecture through direct operations and processes. Recent works - such as Worksite I,II & III - were performances of spontaneous building. Those experimentations produced prototypes to be gathered in one single building one day. Marc is at the moment designing a building in Bordeaux and he'll build next September a Pavilion in the parc of a castle in Burgundy.
He has participated to several symposiums at EHESS Paris, Foundation Hartung Bergman or held public lectures at Villa Medicis. He received in 2011 the research grant from the Le Corbusier Foundation. He's at the moment working on a book about Raimund Abraham based on a film by Jonas Mekas to be published by NERO editions, the project has been awarded by the Graham Foundation.