updated at:
published at:
Seven Integral Personal Development Sessions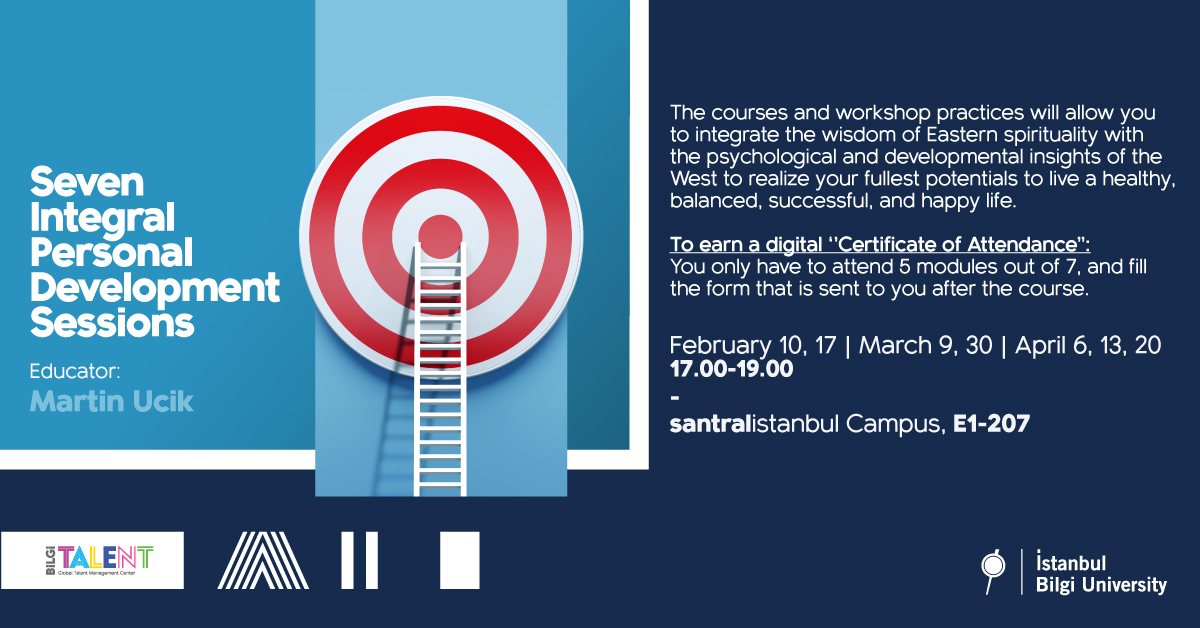 Trainer: Martin Ucik
These sessions are organized by İstanbul Bilgi University Global Talent Management Center (BİLGİTalent).
Dates: 10, 17 February, 9, 30 March, 6, 13, 20 April
Time: 17.00-19.00
Place: santralistanbul, E1-207
The courses and workshop practices will allow you to integrate the wisdom of Eastern spirituality with the psychological and developmental insights of the West to realize your fullest potentials to live a healthy, balanced, successful, and happy life.
To earn a digital '' Certificate of Attendance '', you have to attend 5 modules out of 7, and fill the form that is sent to you after the course.
The sessions will be held in English.
Martin Ucik
Martin Ucik (1957 – ) was born in West-Germany. After studying electrical engineering and business he founded a successful international music-soft and hardware publishing company. He moved to California in 1995 where he trained with spiritual teacher Eckhart Tolle as a "Power Of Now" group facilitator. His studies of Ken Wilber's Integral Model of personal growth and potentials allowed Martin to integrate his personal and professional experiences with the wisdom from over 200 management and relationship books into Integral Relationships: A Manual for Men which Ken Wilber calls "terrific" and Sex Purpose Love, which Wilber calls "a leading-edge guide". Martin lives in Istanbul and Los Angeles and teaches world-wide.
To register: talent@bilgi.edu.tr