updated at:
published at:
Graduation Ceremonies 2018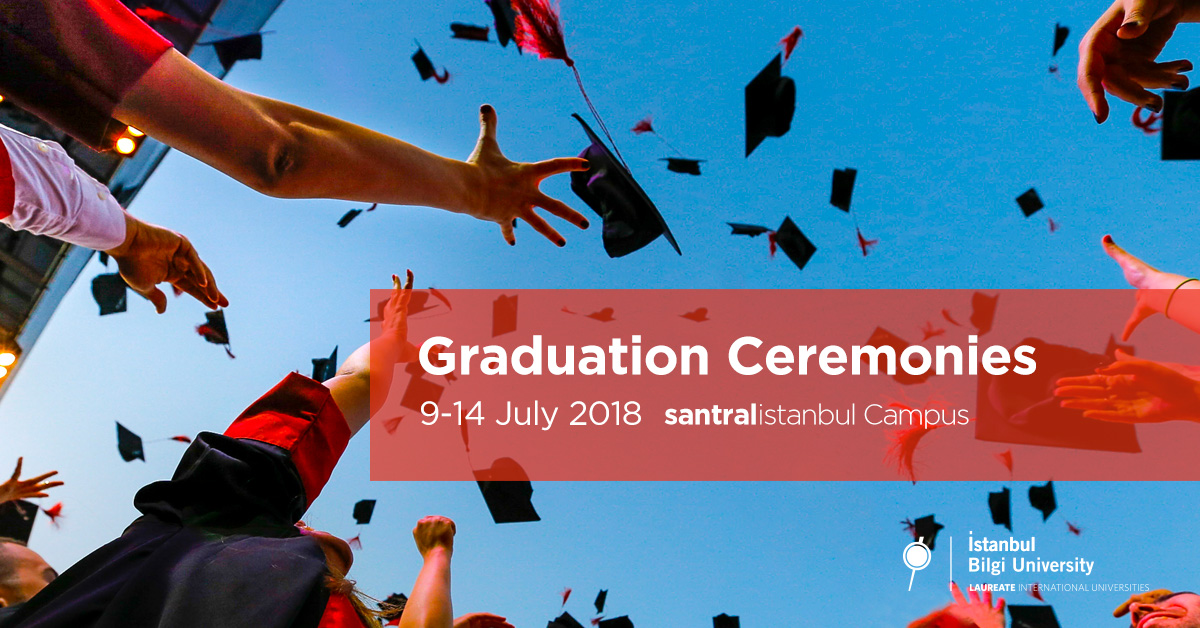 Date: 9-14 July 2018
Place: santralistanbul Campus

GRADUATE PROGRAMS Candidates, please click here.

UNDERGRADUATE-ASSOCIATE DEGREE PROGRAMS Candidates!
We kindly request our all graduate candidates to consider issues listed below for Graduation Ceremonies to be held on 9-14 July 2018.
Participation to Ceremony:
Graduate candidate list covers students of 7th and 8th semester for undergraduate degree students and 3rd and 4th semester students for associate degree students.
Candidates those who want to participate graduation ceremony are required to deposit 100 TL by 22nd June 2018 Friday 14.00 hours to account at Garanti Bankası, Çağlayan Branch 6295673 (IBAN: TR96 0006 2000 4030 0006 2956 73). It is required to write down name and surname of student and deposited amount and following this to make application for cap and gowns through "Student Page".
Delivery of cap and gown will be made after approval your application that you made from "Student Page" by relevant department. You may take your cap and gown from delivery points when you see "ready" statement in your application page. Name of students who did not apply are not listed in graduation ceremony list.
Cap-Gown Delivery:
Cap and gown deliveries will take place between 28th May- 22nd June 2018 10.00-16.00 hours (in working days) only at Santral İstanbul Campus and Kuştepe Campus. No deliveries will be made during the graduation ceremony.
Place of Delivery:
Kuştepe Campus, A-320
(only graduate candidates from School of Health Services and School of Advanced Vocational Studies will take their caps and gowns from Kuştepe Campus)
santralistanbul Campus, Activity Tent

You may return your caps and gowns to tent in santralistanbul Campus after graduation ceremony. 100 TL that you deposited will be refunded within 10 working days at the latest on condition that you return them with your deposit receipt and completely filed return form.

Ceremony Program:
Graduation Ceremonies of 2018 are scheduled as follows. Flow of event will be announced to our students later.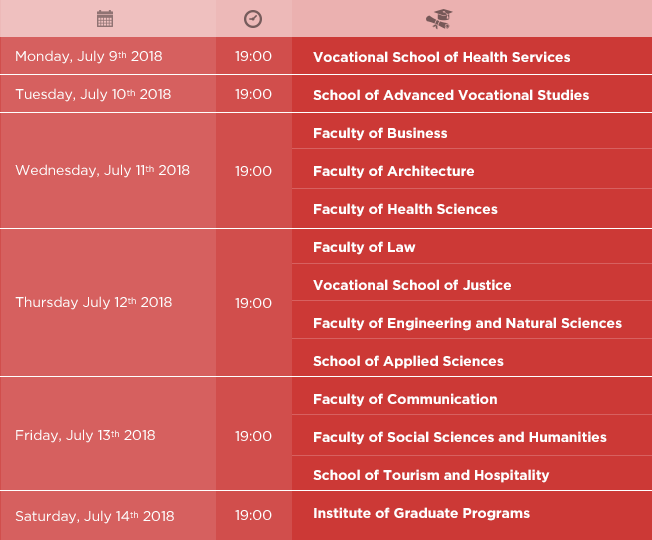 Students those who will participate to ceremonies are required to be present at assembly point 1,5 hour before starting of ceremony at the latest. (Points of assembly: ÇSM 401-402-403-404)
Students will leave their parents and wear their gowns and line up according to order of ceremony. Students are required not to keep their personal belongings at venue of ceremony and during ceremony.
Invitation:
Invitations will be sent to your e-mail addresses in digital form. Student can only enter in ceremony area by presenting their student IDs.
Transportation and Car Park:
Free shuttle services will be provided starting from 2 hours before the ceremony once in every 15 minutes from Beşiktaş (opposite of Naval Museum-next to Vakıfbank) and from opposite of Halıcıoğlu Metrobus station to santralistanbul Campus, shuttle services will be provided after the ceremony as well. We thank you in advance for you to make your preparation by considering intense traffic in our car park may occur beyond our control.
For your questions: mezuniyet2018@bilgi.edu.tr