updated at:
published at:
Buddy program for international students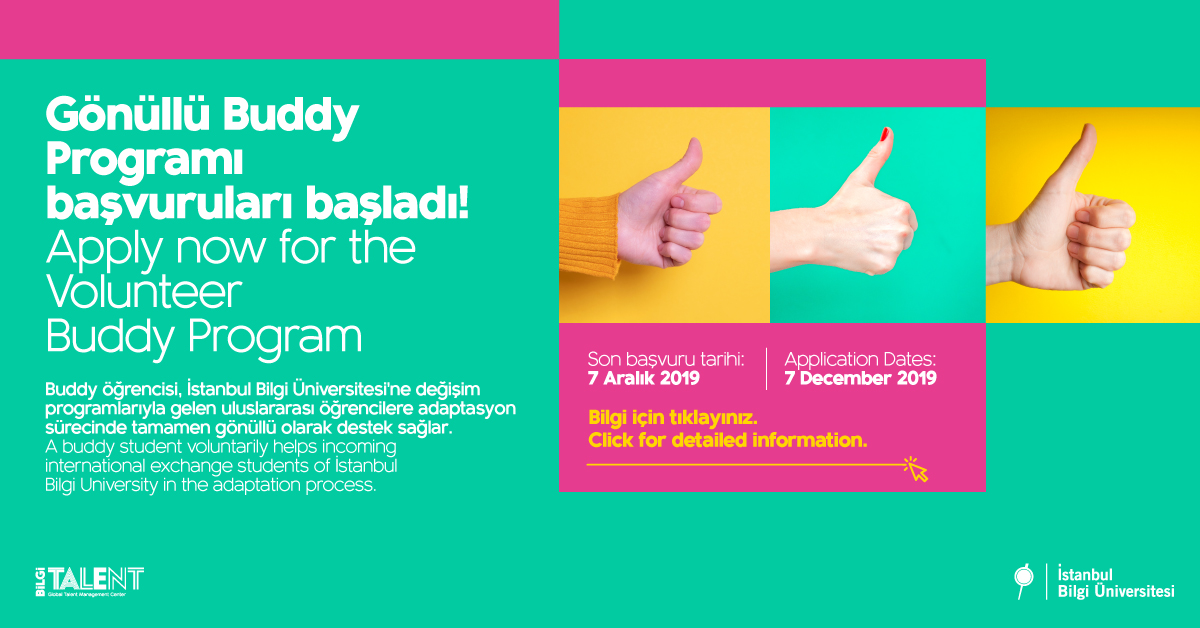 WOULD YOU LIKE TO PARTICIPATE TO BUDDY PROGRAM AND HELP THE OTHERS? NOW IS THE TIME TO APPLY!
Application Dates: 18 November – 7 December 2019
Who can become a volunteer "Buddy" and what does a Buddy student do?
You do not have to be experienced. You just have to be willing to help.
A Buddy student voluntarily helps incoming international students of İstanbul Bilgi University.
All we expect from 'buddies' is that they imagine themselves in the shoes of the incoming students and assist the incoming students with the problems that they might experience upon arrival for their studies.
With your volunteer work in the Buddy Program, you can improve your communication with international students, learn different cultures, participate in a multicultural environment as well as practice your foreign language skills. In this way, when you yourself get the chance to travel abroad, you will be familiar with the needs of international students and have already friends from all around the world!
What are the main responsibilities of the volunteer Buddy students?
Participate and assist on the Orientation Day done by Global Talent Management Center
Help incoming students with their transportation needs from airport to accommodation place
Help with phone registration and getting a SIM card
Assist incoming students with finding accommodation
Assist incoming students with course registration
Assist incoming students with residence permit applications and health insurance transactions
Introduce life in Istanbul and BİLGİ campus to the incoming students and share your own experiences.
The students who are selected as Buddy for an exchange student are expected to be in Istanbul starting on the date on which they will arrive in Istanbul and meet the student at the airport. If you will not be in Istanbul at the time of the exchange student, we ask you to inform us about buddy@bilgi.edu.tr for the assignment for a new Buddy.
The voluntary "Buddy" Program is organized by Global Talent Management Center of İstanbul Bilgi University.
How can you apply to be a "Buddy"?
Please fill the from to apply for Buddy Program: https://forms.gle/ChuEr419NpJfZCkw8
The Buddy Program Orientation Day Presentation File: https://www.bilgi.edu.tr/media/uploads/2019/05/22/buddy-program-presentation_gozde-topraktepe.pdf