updated at:
published at:
3D Woven Structures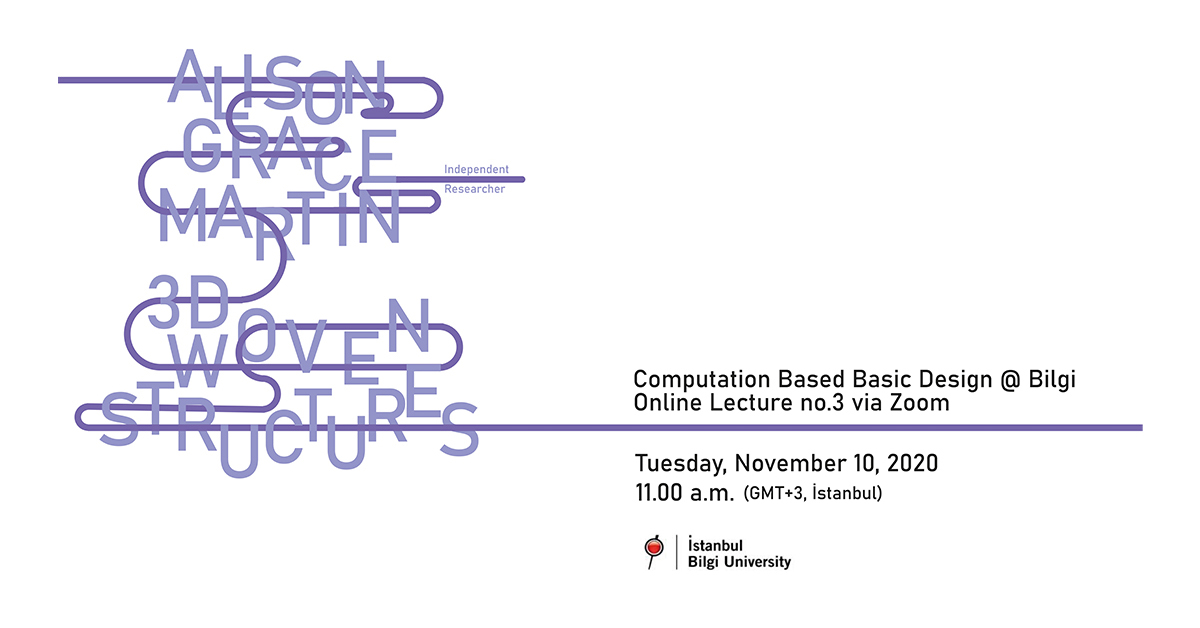 Date: 10 November 2020, Tuesday
Time: 11.00
Guest Speaker: Alison Grace Martin, Independent Researcher
ComputationBased_BasicDesign Studio at the Faculty of Architecture hosts Alison Grace Martin as a guest speaker of the 2020-2021 Fall Semester. Alison Grace Martin will give an online lecture titled "3D Woven Structures".
The lecture will be virtually held on Zoom. Click the link in the specified time. Click here to join lecture.
Representation will be held in English without translation.
The online lecture will be about Alison Grace Martin's research by design and practice. Mrs. Martin has been studying natural structures and complex patterns in nature and applying the findings to design and construction concepts. Her research has led to analysis and development of weaving patterns which are related to topology and materials geometry. Mrs. Martin is interested in the principles and concepts define the shape-based design rules for the self-assembly. She believes traditional fibre-work can be pushed beyond normal expectations in order to expose relationships with complex surface visualization and structural morphology. During the slow process of hand-building physical models from regular elements, and through spending an extended period of time working on a piece, she says she has a chance to reflect and gain more understanding of the possibilities of a form. Besides, she makes experimental lightweight structures from bamboo in which the symbiotic connection between craft and digital processes is evidenced.
There will be a discussion session to up for comments and questions following her lecture.
About Alison Grace Martin:
Alison Grace Martin (@alisonmartin57) is an independent researcher, designer, artist and craftsman. She studied at Exeter College of Art and St. Martin's College of Art and Design, graduating in Graphic Design in 1979. In 2015, she won the "Future Visions" contest organised by the International Association of Shell and Spatial Structures, for an innovative pavilion design. Recent collaborations with CITAstudio KADK, Central St. Martins, CODAU PC Barcelonatech, Architecture Faculty TU München. Her work has been shown at MoMath, (NY), Institut für MathematikTU Berlin, MuSe (Trento), Institut d'Etudes Avancées d'Aix-Marseille (IMéRA). She runs courses in UK and European universities exploring geometric principles and mathematical rules that underlie weaving and 3D mesh-making.