updated at:
published at:
Re-thinking Methodology in Communication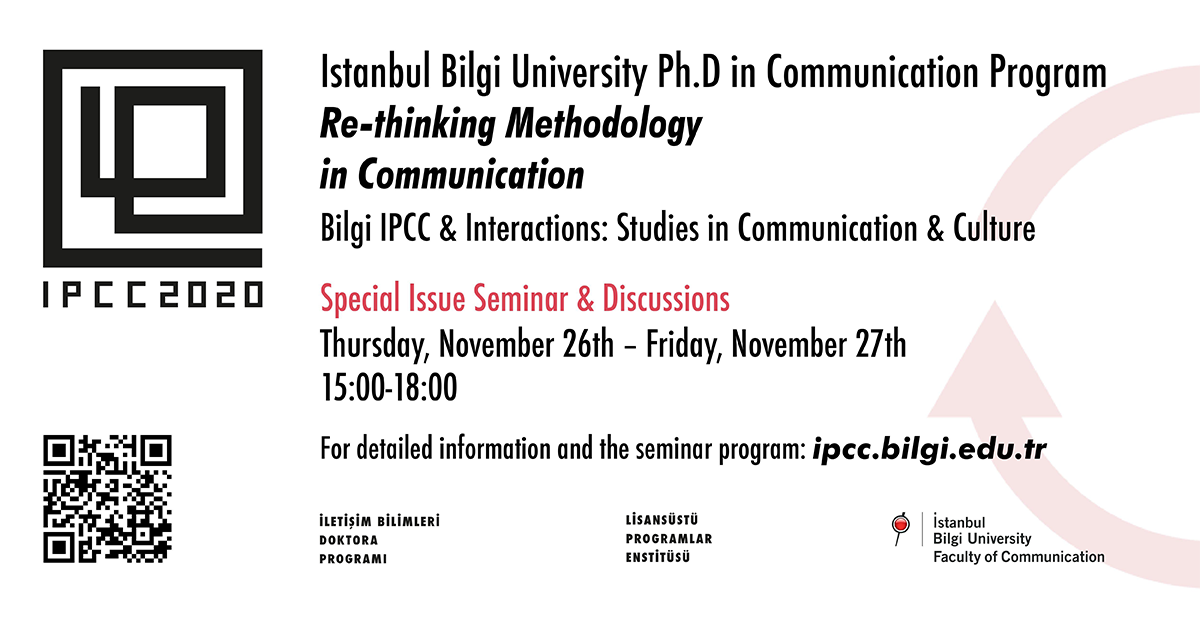 Date: 26th – 27th
Time: 15.00 – 18.00
We are excited to invite you to partake in our discussion sessions on November 26thand 27th, organised to collectively think about the need to re-evaluate methodologies of communication and social sciences in a transforming world. Interdisciplinary Ph.D. Communication Conference (IPCC) is an annual graduate conference launched in 2018 by a group of Ph.D. students from Istanbul Bilgi University, turned into a blooming early career researcher network. Within the body of the PhD in Communication program, the idea of IPCC stemmed out of a strong belief: constructive discussions on how research studies are carried out now and how they should be carried out in the future are valuable to the discipline of communication. The outcomes of the conferences in 2018 and 2019 were published in Intellect Books' journal, Interactions: Studies in Communication & Culture's Volume 11, Issue 1, in Spring 2020.
This online seminar provides an opportunity for the authors of the articles in the special issue to briefly revisit their work in 15-minute presentations, leading to discussion sessions with any interested party to collaboratively think about methodology today.
If you would like to watch the presentations and participate in the discussion sessions, please fill out the form. All participants will receive the Zoom links, one for each day, before the seminar.
Click here to join.
If you have any questions, feel free to contact us at ipcc@bilgi.edu.tr.
For the programme and detailed information: ipcc.bilgi.edu.tr
BİLGİ IPCC is operates within PhD in Communication Program and is supported by Faculty of Communication and Institute of Graduate Programs at Istanbul Bilgi University.