updated at:
published at:
The Third Exit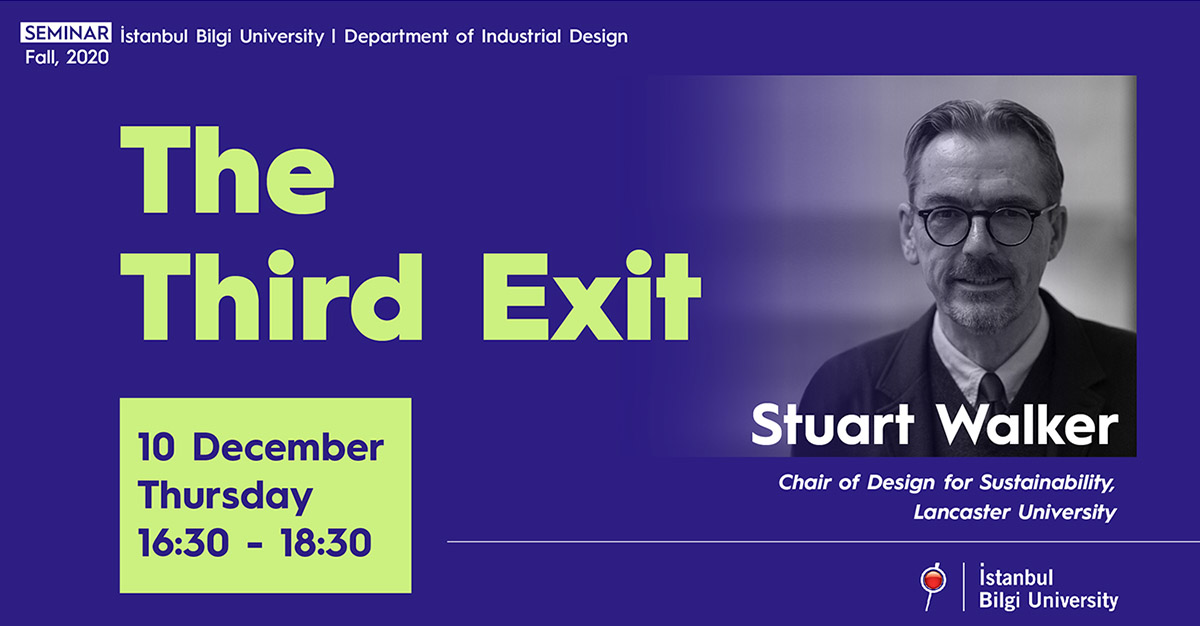 Date: 10 December 2020
Time: 16:30 - 18:30
In this talk, Walker examines some of the significant contradictions in our current approaches to design for a better, more sustainable future and the limitations of these approaches. Walker then proposes a rather different direction, one that integrates the environmental and social aspects of sustainability with individual flourishing and growth. Finally, Walker considers the implications of this direction for business, government and design.
Professor Stuart Walker*, Chair of Design for Sustainability at Lancaster University will make a presentation titled "The Third Exit" in the context of our ID 411 Design in Context class. This particular class session is open to the participation of all interested. Please find more information on the program and the connection link below.
Register for this webinar: https://us02web.zoom.us/webinar/register/WN_d6tdsFqmQaix6D1gsl5Psw
* Stuart Walker is Chair of Design for Sustainability at Lancaster University where he co-founded the ImaginationLancaster Design Research Lab. He is Visiting Professor of Sustainable Design, Kingston University, London and Emeritus Professor, University of Calgary. His research explores environmental, social and spiritual aspects of sustainability. His designs have been exhibited in Canada, Australia, Italy, and the Design Museum, London. His books include The Handbook of Design for Sustainability (ed. with Jacques Giard), Designing Sustainability; Design Roots (ed with Martyn Evans et al), Design for Life and Design Realities (Routledge, 2018). His latest book, Design and Spirituality is published in December 2020.