updated at:
published at:
Legal and Political Arguments in the Impeachment Process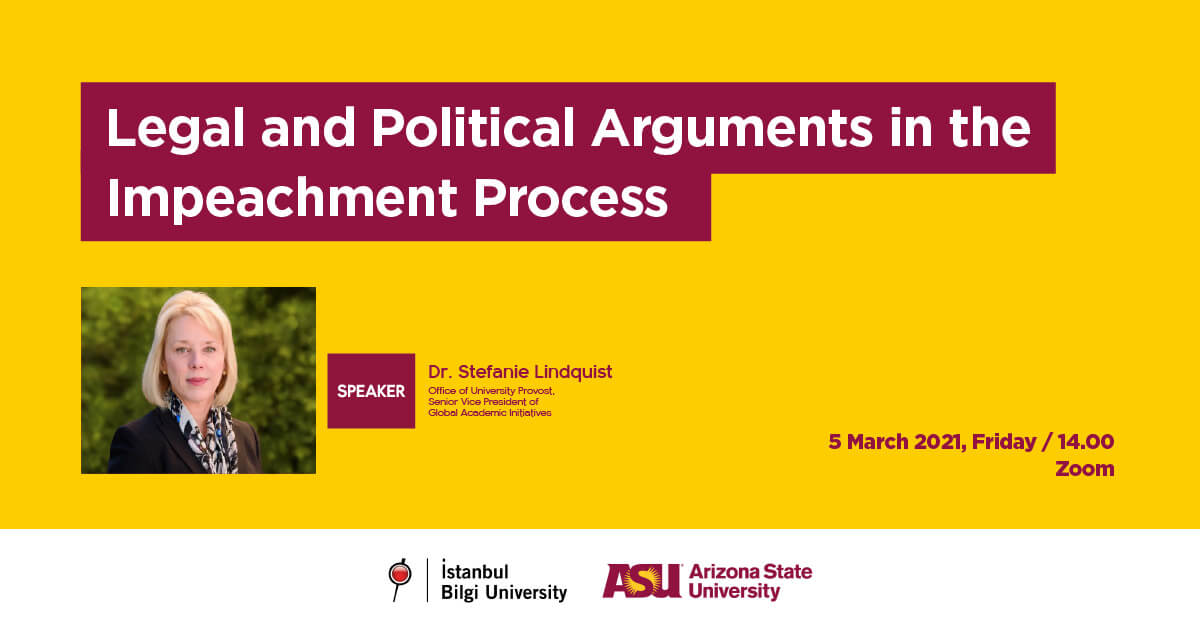 Date: 5 March 2021, Friday
Time: 14.00
Zoom
SPEAKER:
Dr. Stefanie Lindquist
Office of University Provost, Senior Vice President of Global Academic Initiatives
The event will be held in English.
Click here to join.
Passcode: 912355
Dr. Lindquist became Senior Vice President of Global Academic Initiatives at Arizona State University in November 2019, where she facilitates ASU's global academic portfolio. Prior to taking that position, she served as Deputy Provost and VP for Academic Affairs, and Foundation Professor of Law and Political Science at ASU from 2016 to 2019. She served as Dean and Arch Professor at UGA's School of Public and International Affairs from 2013 to 2016, after serving as Interim Dean, Associate Dean for Outreach, and Associate Dean for Academic Affairs at the University of Texas School of Law. Prior to teaching at the University of Texas, Professor Lindquist taught law and political science at Vanderbilt University. She also served as a visiting faculty member at the University of Southern California Gould School of Law in 2013.
She is recognized as an expert on the US Supreme Court, Constitutional Law, and Administrative Law. She has co-authored three books and has authored dozens of published articles and book chapters. Her book, Measuring Judicial Activism, is the first publication to define the oft-used term quantitatively.
Dr. Lindquist was recognized for her exceptional teaching skills at both Vanderbilt University, where she was awarded the Robert Birkby Award for Excellence in Teaching Political Science and served as director of the graduate program and at the University of Georgia, where she was named Professor of the Year (2003) and where she earned its University-Wide Teaching Award in 2002.
Lindquist oversaw the Temple University Law Review, serving as its Editor in Chief. After graduating Magna Cum Laude, she clerked for the Honorable Anthony J. Scirica at the United States Court of Appeals for the Third Circuit in Philadelphia and later practiced law at Latham and Watkins in Washington, D.C. She also served as a research associate at the Federal Judicial Center in Washington D.C. assisting committees of the Federal Judicial Conference in addressing questions of judicial administration.
She earned her Temple J.D. in 1988 and in 1995 earned her Ph.D. in Political Science at the University of South Carolina. Dr. Lindquist resides in Scottsdale, AZ.