updated at:
published at:
TEACHING WOMEN'S FILMMAKING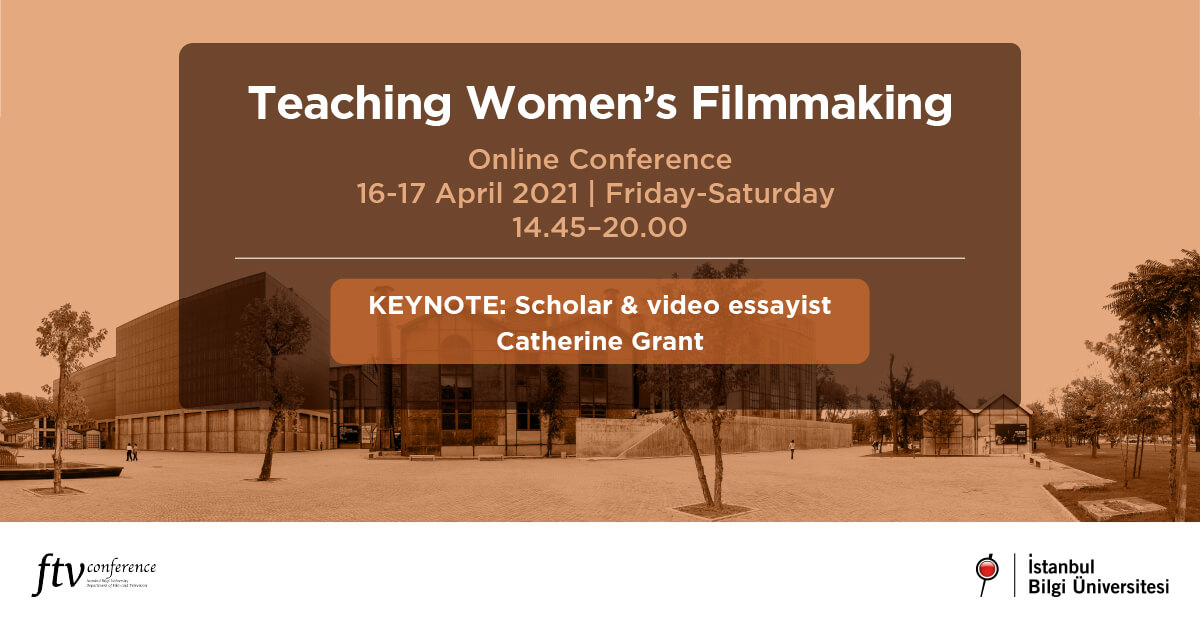 Date: 16-17 April 2021/ Friday - Saturday
Time: 14.45 - 20.00 (GMT +3)
Zoom
The conference is organized by İstanbul Bilgi University Department of Film and Television. This virtual conference marks Istanbul Bilgi University's third annual event dedicated to women and media. The two-day event will include both academic papers and video essays that focus on pedagogy and audiovisual criticism. Friday 16 April will have a zoom session of three panels and another session featuring the keynote from film scholar and video essayist Catherine Grant: "Making nearby? On teaching and unlearning women's filmmaking through the audiovisual essay." Saturday 17 April will have another zoom session of three panels and a final session in a roundtable format, dedicated to Teaching Agnès Varda and chaired by Sandy Flitterman-Lewis, author of the groundbreaking book To Desire Differently: Feminism and the French Cinema (1990).
Click here to register for different Zoom sessions.
PROGRAM
TIME (GMT +3)

Friday, 16 April
[14:45 – 18:30 Zoom Session I, 18:30 Zoom Session II ]

ZOOM SESSION

I

14.45-15.00 WELCOME: Aslı Tunç, Istanbul Bilgi University

15.00-15.50 INTERDISCIPLINARY PEDAGOGIES

Moderator: Ebru Çiğdem Thwaites Diken

16.00-16.50 WOMEN'S AUTHORSHIP

Moderator: Diğdem Sezen

Maria Juko, "Adapting 19th Century Texts for the 21st Century Feminist Audience: Greta Gerwig's Little Women and Autumn de Wilde's Emma"
Leonie Gschwendtberger, "The (Un)Teachable Film Praxis of Trinh T. Minh-ha"
Nayibe Bermúdez, "Auteur Politics and Immaterial Labour in Lucrecia Martel's Zama (2017)"

17.00-17.50 CREATIVE PRAXIS

Moderator: Feride Çiçekoğlu

18.00-18.30 COFFEE / DISCUSSION BREAK [30 minutes]

ZOOM SESSION

II

18.30 KEYNOTE

Catherine Grant, "Making nearby? On teaching and unlearning women's filmmaking through the audiovisual essay"

Moderator: Colleen Kennedy-Karpat

TIME (GMT +3)

Saturday, 17 April
[14:45 – 18:30 Zoom Session III, 18:30 Zoom Session IV]

ZOOM SESSION III

14.45-15.00 SUM-UP OF THE FIRST DAY: Colleen Kennedy-Karpat

15.00-15.50 DOCUMENTARY

Moderator: Şirin Fulya Erensoy

Lorena Cervera, "A Film by Cine Mujer: A Video Essay" (video essay)
Jolene Mairs Dyer, "Kim Longinotto: Theorizing the Female Gaze in Relation to Intersubjectivity and the Auteur in Documentary Practice"
Esra Yıldız, "Remembering Through Films: Women Documentary Directors in Search of Lost Past"

16.00-16.50 THEORIZING WOMEN IN FILM

Moderator: Kate Ince

·Estrella Sendra Fernández, "Film As Sound Art: Embracing Love through Extradiegetic Sound in Nadine Labaki's Caramel" (video essay)

·Katerina Papakyriakopoulou, "Social Realism and the Female Gaze in Andrea Arnold's Fish Tank"

·Ipek Altun, "A Life Cycle Becoming Purified: No Home Movie (2015)"

·Evaguelia Diamantopoulou, "Issues of Presence and Absence of the Female Figure in the Artistic and Filmic Portrait"

17.00-17.50 NATIONAL CINEMAS

Moderator: Nadine Boljkovac

18.00-18.30 COFFEE / DISCUSSION BREAK [30 minutes]

ZOOM SESSION IV

18.30 ROUNDTABLE: Teaching Agnès Varda

CHAIR: Sandy Flitterman-Lewis

Libertad Gills, "Walking or Weeping" (video essay)
Kate Ince
Jenny Chamarette
Nadine Boljkovac
Alan Williams
Feride Çiçekoğlu
Colleen Kennedy-Karpat