updated at:
published at:
Global Politics in the Age of Computational Propaganda Online Conference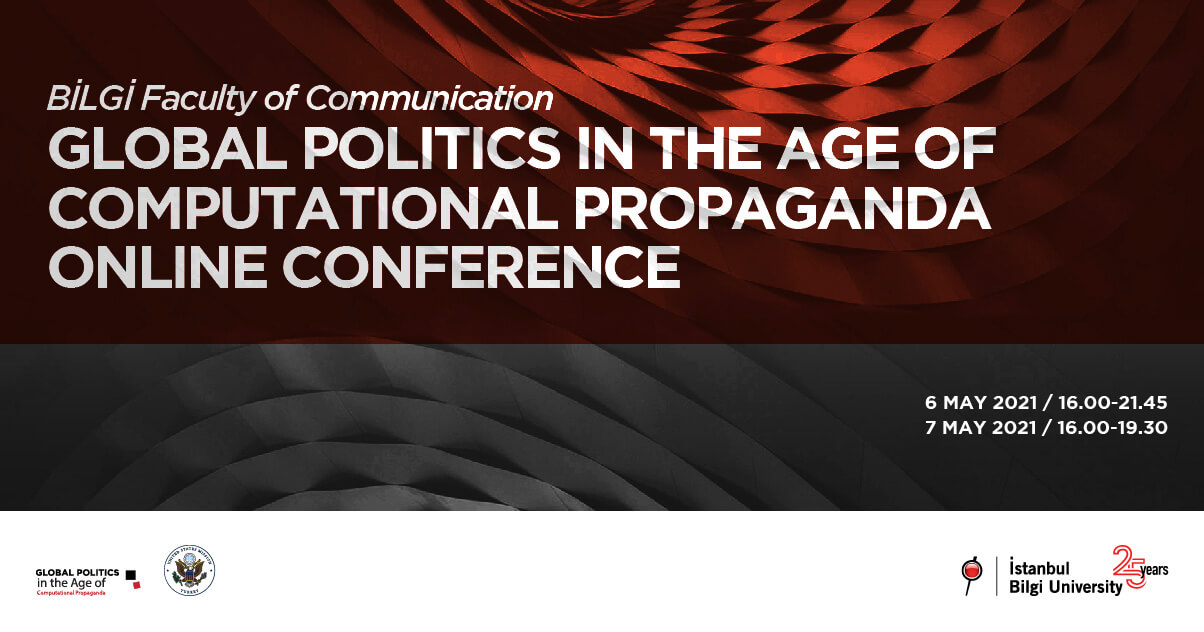 Date: May 6-7, 2021 / Thursday - Friday
Time: 16.00 - 21.45 / 16.00 - 19.30 (GMT +3)
Zoom
Fake news, trolling and the spread of hate speech on social media have had an indisputable impact on global politics. In many parts of the world, social media has become a medium not only used by those demanding democracy and freedom but also by those supporting illiberal or authoritarian regimes. As such, one may argue that social media is a refreshing yet chaotic medium where lies and facts can co-exist and for the most part, blend. The stakes of the online conversation as well as its intensity makes social media particularly vulnerable to computational propaganda efforts. As a term, computational propaganda can be defined as the use of algorithms, automation, and human curation to purposefully distribute misleading information over social media platforms. The goal of computational propaganda is manipulating public opinion to serve the agenda and interests of 3rd party actors. Employing a variety of different tactics and strategies, computational propaganda is used by malignant actors to influence elections, political campaigns and public life around the world. The goal of the conference is to start a scholarly dialogue on how computational propaganda influences public opinion in Turkey and to share experiences from Russia, Iran, and the MENA region.
PROGRAM
06 MAY 2021
16.00-16.30 Welcome:
Asli Tunc
Ivo Furman
16.30-17.30 Keynote 1: "After Democracy: Technology and Solidarity"
Zizi Papacharissi, University of Illinois
17.30-18.45 Panel 1: ''International News, Soft Power and Public Opinion''
Donald Jensen, Thomas Kent, Ivo Furman, Kurt Bilgin Gürel
Discussant: Erkan Saka
18.45-19.00 Coffee Break
19.00-20.30 Panel 2: ''Fact Checking, Fake News and Bot Detection''
Banu Akdenizli, Onur Varol, Hamdi Akin Unver, Marc Owen Jones
Discussant: Sarphan Uzunoğlu
20.15-20.30 Coffee Break
20.30-21.45 Panel 3: ''Misinformation in the Middle-East''
Karabekir Akkoyunlu, Simin Kargar, Mona Elswah, Mahsa Alimandar
Discussant: Ivo Furman
07 MAY 2021
16.00-16.30 "Computability, Algorithms, and the Political Subject"
Halil Nalçaoğlu
16.30-17.30 Keynote 2: "The Evolution of Computational Propaganda and Digital Disinformation"
Sam Wooley, University of Texas
17.30-18.15 Roundtable 1: "Fact-Checking, Journalism and Democracy"
18.15-18.30 Coffee Break
18.30-19.15 Roundtable 2: "Political Communication and Computational Propaganda"
19.15-19.30 Closing Remarks
Click here to register
For more information: computational-propaganda.com