updated at:
published at:
Roots and Branches of #MeToo: Social Movements in Global Context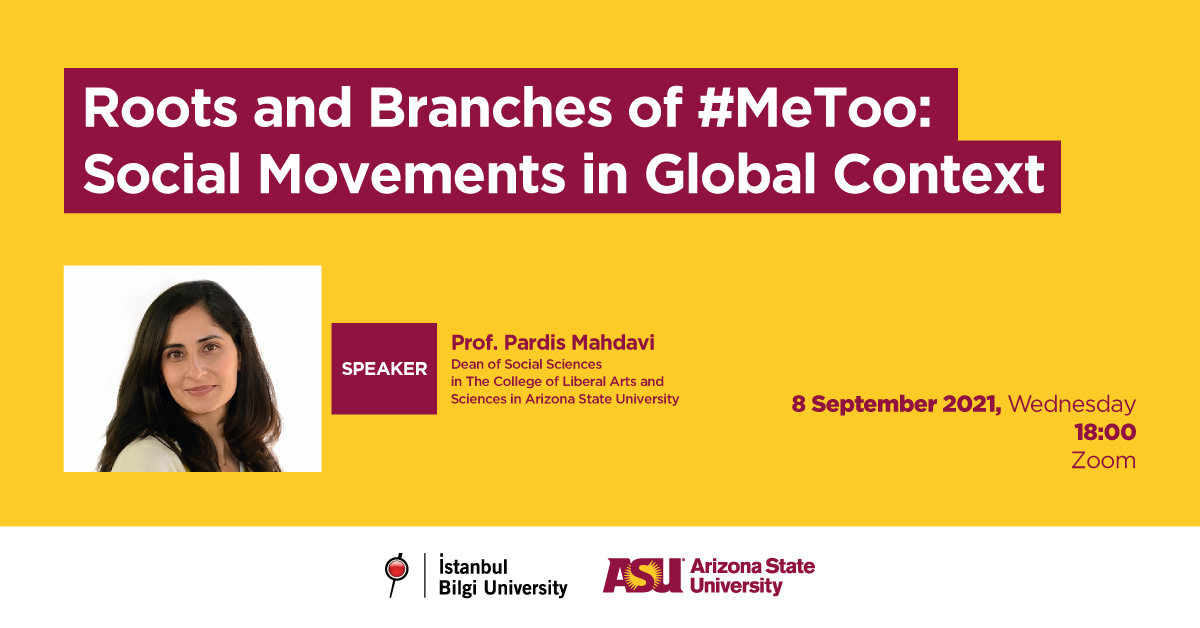 Date: September 8, 2021 - Wednesday
Time: 18.00 (Turkish Time) - 8.00 (Arizona Time)
Zoom
Speaker: Prof. Pardis Mahdavi, Dean of Social Sciences in The College of Liberal Arts and Sciences in Arizona State University
Five years into the rapid success of #MeToo, feminism and sexual politics have come to define conversations everywhere. Notably, feminist sexual politics are giving birth to a new world order by explicitly joining the political with intimate matters of the self.
But this momentum has been building globally for over two decades, laying the groundwork for sexual revolutions that call for political change. As feminism comes to define our current moment, we need to better understand the successes and failures of other manifestations of feminist resistance around the world. In so doing, we must recognize the interconnectedness of global social movements. This talk also connects #MeToo to feminist movements such as #MyStealthyFreedom in Iran, and #NudeBloggers in Tunisia by highlighting the impact of feminism in bringing about social transformation in places like Iran through the Green movement, the Arab world through the Arab Spring, and the repeal of colonial era laws in India.
While we do not yet know the lasting results of these movements taking place, we should consider the difference in how feminism and sexuality impact the rise and fall of regimes. We see major shifts in the representations of all manner of organizing happening around the world. How and why?
Pardis Mahdavi is the dean of social sciences in The College of Liberal Arts and Sciences and a professor in Arizona State University's School of Social Transformation. Mahdavi has focused her academic career on diversity, inclusion, human trafficking, migration, sexuality, human rights, feminism and public health.
Mahdavi's approach to higher education has been informed by her personal journey as an Iranian-American woman growing up in the U.S., as well as her training as an anthropologist where she learned to be reflexive about complex power dynamics.
Mahdavi served as the director of the School of Social Transformation before appointment as dean in 2019. Prior to ASU, she was with the Josef Korbel School of International Studies at the University of Denver, where she served as acting dean. Before coming to Denver, she was at Pomona College from 2006-2017 where she most recently served as professor and chair of anthropology, director of the Pacific Basin Institute at Pomona College, as well as Dean of Women.
Her research interests include academic freedom, diversity and inclusion in higher education, gendered labor, human trafficking, migration, sexuality, human rights, youth culture, transnational feminism and public health in the context of changing global and political structures. She has published five single-authored books and one edited volume in addition to numerous journal and news articles. She has been a fellow at the Social Sciences Research Council, the American Council on Learned Societies, Google Ideas, and the Woodrow Wilson International Center for Scholars. She has consulted for a wide array of organizations including the U.S. government, Google Inc., and the United Nations. In 2012, she won the Wig Award for teaching at Pomona College.
Education:
Ph.D. Sociomedical Sciences and Anthropology, Columbia University 2006
M.Phil. Anthropology, Columbia University 2003
Master's degree. International Affairs, Columbia University 2002
B.A. Diplomacy and World Affairs, Occidental College 2000
Click here to register in advance.