updated at:
published at:
Global Transformations: ASU-BİLGİ TALK SERIES II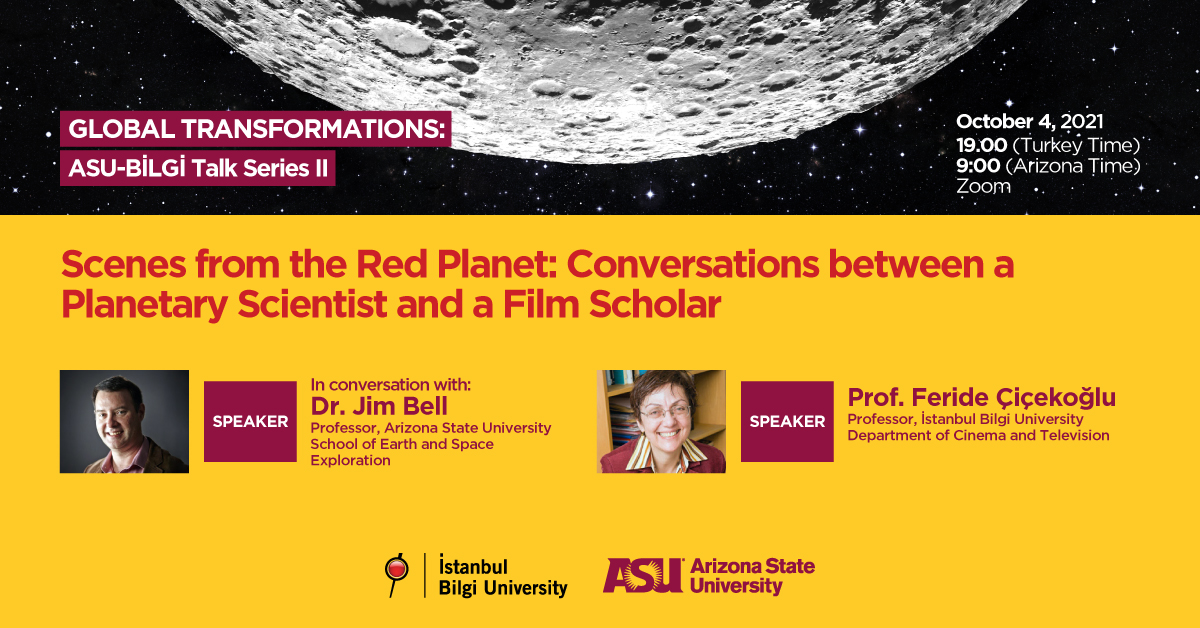 Scenes from the Red Planet: Conversations between a planetary scientist and a film scholar
Date: October 4, 2021
Time: 7:00 p.m. (Turkey Time)
9:00 a.m. (Arizona Time)
Zoom
Speakers: Dr. Jim Bell & Prof. Feride Çiçekoğlu
Instead of Martians visiting the earth, we took the first turn. We can now verify with our own eyes that the color of the sky is different on the Red Planet. The cameras which landed there to see for us were designed by Professor Jim Bell. How was it to conceptualize, visualize and design them? Was it worth the work to see the results? How has our ways of seeing changed since 1938, when Orson Welles read an episode of the H.G. Wells "War of the Worlds" on the radio and millions of radio listeners believed that the Martians were indeed landing on earth? Is seeing still believing? Who sees on behalf of us? These and many other questions, we are going to ask Professor Bell directly!"
Dr. Jim Bell is a Professor in the School of Earth and Space Exploration at Arizona State University in Tempe, Arizona, an Adjunct Professor in the Department of Astronomy at Cornell University in Ithaca, New York, and a Distinguished Visiting Scientist at NASA's Jet Propulsion Laboratory in Pasadena, California. Jim's research group primarily focuses on the geology, geochemistry, and mineralogy of planets, moons, asteroids, and comets using data obtained from telescopes and spacecraft missions.
Jim is an active planetary scientist and has been heavily involved in many NASA robotic space exploration missions, including the Near Earth Asteroid Rendezvous (NEAR), Mars Pathfinder, Comet Nucleus Tour, Mars Rovers Spirit, Opportunity, Curiosity, and Perseverance, Mars Odyssey Orbiter, Mars Reconnaissance Orbiter, and Lunar Reconnaissance Orbiter. Jim was the lead scientist in charge of the Panoramic camera (Pancam) color, stereoscopic imaging system on the Spirit and Opportunity rovers, is the Deputy Principal Investigator of the Mastcam camera system on the Curiosity rover, and is the Principal Investigator for the Mastcam-Z cameras on NASA's upcoming Mars-2020 rover.
Feride Çiçekoğlu is a professor at Film Department at İstanbul Bilgi University and Director of Film and Television Graduate Program. She holds a BA and an MA in architecture from Middle East Technical University in Turkey. She was a Fulbright scholar during her PhD studies at University of Pennsylvania. After her first script about a historical building in İstanbul won an award, she adapted her first novella Don't let them shoot the kite to screen. The film was the Academy Award nominee from Turkey in 1989. She co-scripted "Journey to Hope" which won 1990 Academy Award for Best Foreign Language Film. Çiçekoğlu has been teaching courses in visual culture, film, and architecture at İstanbul Bilgi University for more than two decades. Her key areas of study are representation, adaptation, narration, gender, and space in cinema.
Click here to register in advance for this webinar.
After registering, you will receive a confirmation e-mail containing information about joining the webinar.