updated at:
published at:
4th İstanbul Privacy Symposium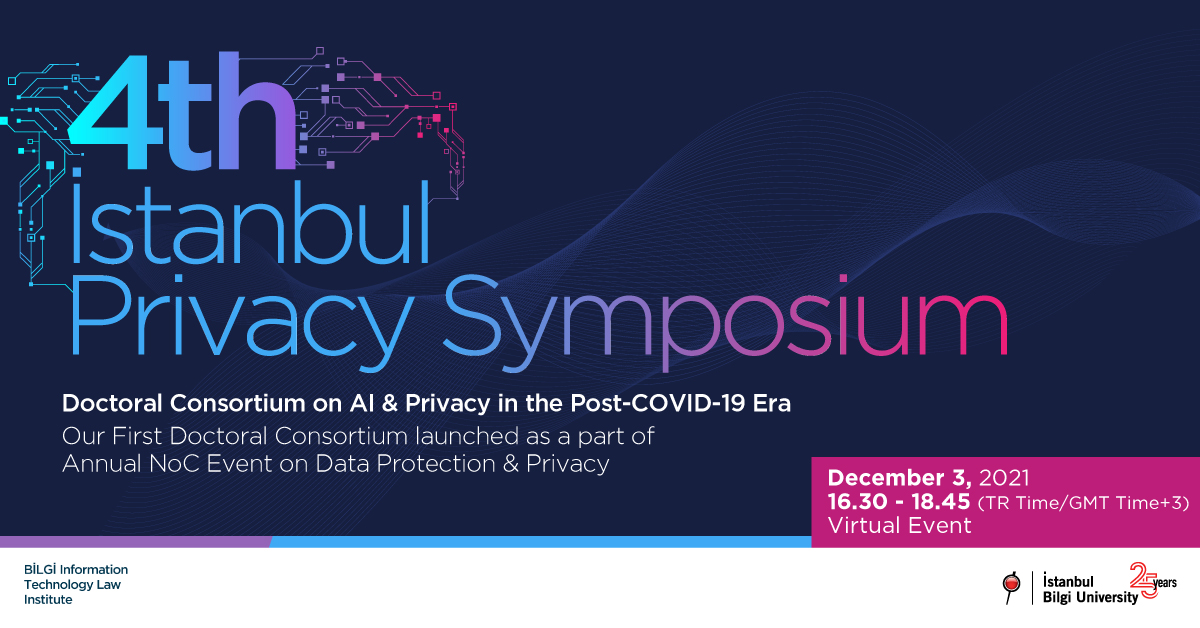 Doctoral Consortium on AI & Privacy in the Post-COVID-19 Era
Our First Doctoral Consortium launched as a part of Annual NoC Event on Data Protection & Privacy
Date: December 3, 2021
Time: 16.30-18.45 (TR Time/GMT+3)
Virtual Event
Program:
16.30 – 16.35

Welcome and Opening Remarks

16.35 – 16.45

Opening Keynote Speech

"How is AI shaping the future of medical imaging?" - Çiğdem Gündüz Demir, Koç University - KUIS AI

16.45 – 17.30

AI & Privacy in the Post-COVID-19 Era - AI & Mental Health/Health

Speakers:
Regulatory challenges of medical devices' cybersecurity in the EU - Erik Kamenjasevic, KU Leuven CiTiP
Post-COVID society: Can the right to data protection and privacy survive? - Maja Nisevic, KU Leuven CiTiP
The Proposed AI Act: What is new for healthcare? - Taner Kuru, Tilburg University
Between access (to services) and exclusion: does the datafied child have a choice? - Eren Sözüer, İstanbul University
"The Doctor Will See You Now? Mental Health, Justice, and Artificial Intelligence" Benedetta Catanzariti, AIES, Edinburgh University

17.30 – 17.35

Q&A (10 mins)

17.35 – 18.25
AI & Privacy in the Post-COVID-19 Era - AI & Social Good

Speakers:

"Computer Says No!": The Impact of Automation on the Discretionary Power of Public Officers, Doaa Abu Elyounes, Harvard University
The Politics of Algorithmic Privacy - Jayshree Sarathy, Harvard University
A Search for Transparency: Study Assessing the Policies of Top-Ranked Kids and Teens Websites Ephraim Luwemba, Nottingham University & 5Rights Foundation
Protecting Privacy in Ethical (Smart?) Cities - Ayça Atabey, BILGI IT Law Institute, Edinburgh University & Zeynep Ülkü Kahveci, İstanbul Bilgi University, İstanbul University

18.25 – 18.35

Q&A (10 mins)

18.35 – 18.45

Closing Remarks

Leyla Keser Berber & Mehmet Bedii Kaya, İstanbul Bilgi University, Law Faculty, IT Law Institute
Click here to register in advance for this webinar.