updated at:
published at:
International Construction Contracts and Dispute Resolution Certificate Program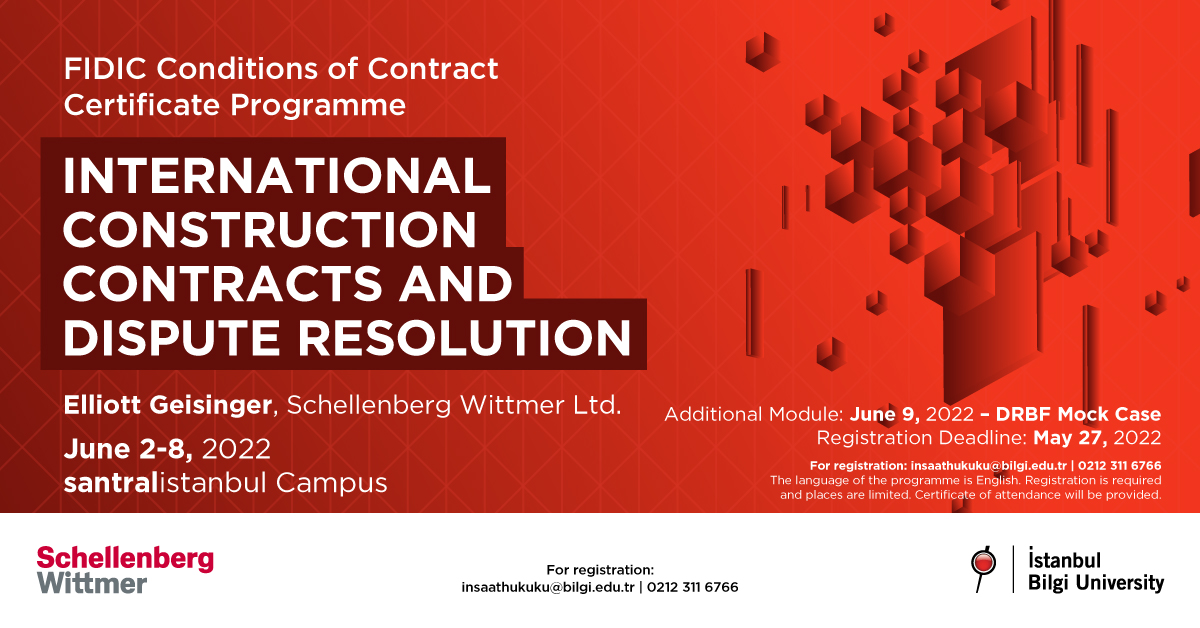 FIDIC Conditions of Contract Certificate Program
Date: June 2-8, 2022
santralistanbul Campus
Elliott Geisinger (Schellenberg Wittmer Ltd, Geneva / President, Swiss Arbitration Association)
The Faculty of Law of İstanbul Bilgi University and Schellenberg Wittmer. are organising a yearly Certificate Course for construction professionals, legal practitioners and of course students. The course is generally an intensive seven-day, 21-hour immersion in practical and legal issues relating to international construction projects, including dispute resolution. An Additional Module will take place on the seventh day of the programme.
Currently the theme of the course is "International Construction Contracts and Dispute Resolution – The Example of the FIDIC Conditions of Contract". The nature of large-scale, international construction projects has resulted in international construction contracts having particular features that differentiate them from other commercial contracts. Standard forms of contract such as those issued by FIDIC have developed which reflect best practices in the construction industry. Along with these forms of contract, the construction industry has favoured special methods of resolving the disputes arising out of a construction project.
Application: To attend this program prior registration is mandatory. Latest registration date is May 27, 2022. Places are limited.
For registration: insaathukuku@bilgi.edu.tr | +90 212 311 6766
For more information, please visit: https://insaat-hukuku.bilgi.edu.tr/en/certificate-programme/