updated at:
published at:
Comparative Company Law Certificate Program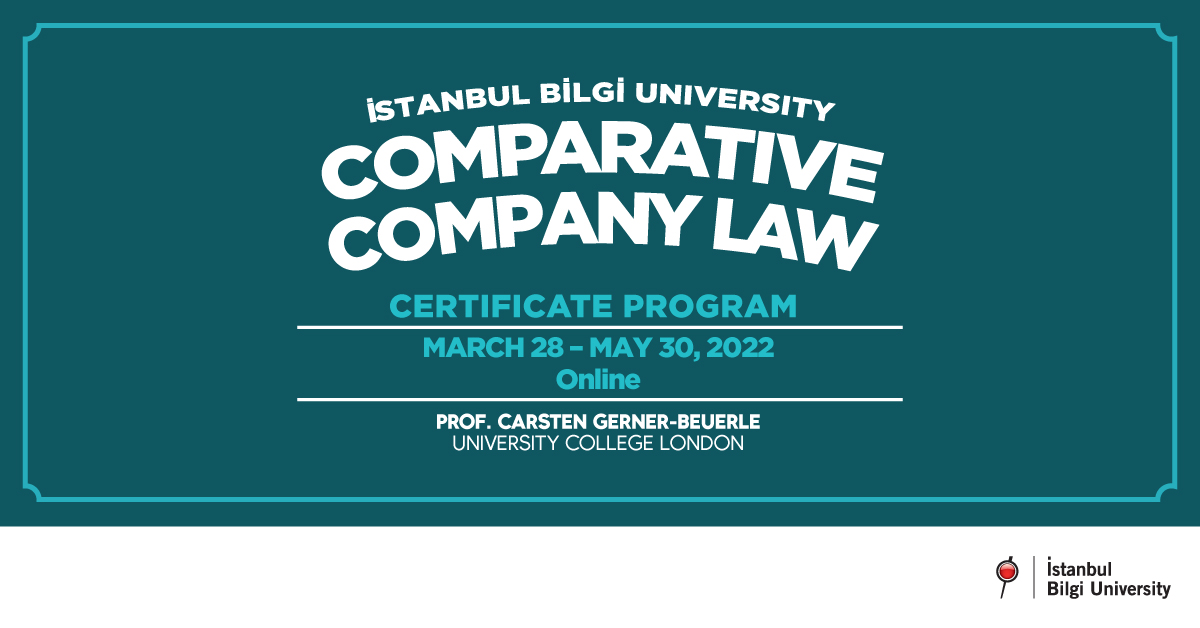 Date: March 28 – May 30 2022
Time: 16.00
Online
Purpose of the Program
The main purpose of this program organized by İstanbul Bilgi University Faculty of Law is to examine and discuss topical issues of corporate law on a comparative basis. In particular, agency problems between shareholders, management and other corporate actors will be identified and solutions to these conflicts will be discussed. In this regard, American and English law representing the common law tradition and German law representing an important Continental European tradition will be analyzed. In addition, where appropriate, references will be made to other national legal systems and supra-national initiatives such as harmonising measures of the European Union, as well as international corporate governance standards.
The program is not only for those who are interested in a comparative and interdisciplinary analysis of fundamental issues of company law, but also for those who would like to be able to make an assessment and interpretation of Turkish company law in a global context. It is also a good preparation for those who are aiming at participating in an LL.M. program abroad.
All lectures will be held online on Mondays at 16:00. A certificate of attendance shall be given to participants who attend 75% of seminars. All lecture materials are in English.
Lecturer: Prof. Carsten Gerner-Beuerle, University College London
Suitable for:
Law students who are planning to apply for an LL.M. in the US, UK, Germany.
Young lawyers and students who plan to work with international clients on corporate law matters.
Lawyers and young academics who intend to conduct academic research from a comparative perspective.
Schedule
| | |
| --- | --- |
| March 28 | Sources of Company Law, Nature of Corporations Agency Problems |
| April 4 | Interests of The Company vs Interests of Shareholders, Operations of The Company, Validity of Company's Obligations |
| April 11 | Capital Structure, Limited Liability and Remedies, Initial Legal Capital, Payment of Shares |
| April 19 | Capital Increase, Raising Finance |
| April 26 | Break |
| May 2 | Break |
| May 9 | Distributions, Capital Reductions and Share Buybacks |
| May 16 | Corporate Governance Regulation, Corporate Governance Codes, Board Composition and Regulation |
| May 23 | Duty of Care |
| May 30 | Duty of Loyalty |
Duration: 8 Weeks, 24 Hours in Total
Courses are held on Mondays between 16:00-19:00 via Zoom.
Fee: (Vat Included)
Regular fee: ₺2.700
BİLGİ Alumni or BİLGİ Graduate Students: ₺2.100
Legal Interns or Students from Any Law School: ₺1.150
For further information: companylaw@bilgi.edu.tr
Click here for registration.