updated at:
published at:
Edirne, Türkiye, the EU: Political narratives on the governance of migrants' (im)mobility at the Greek-Turkish border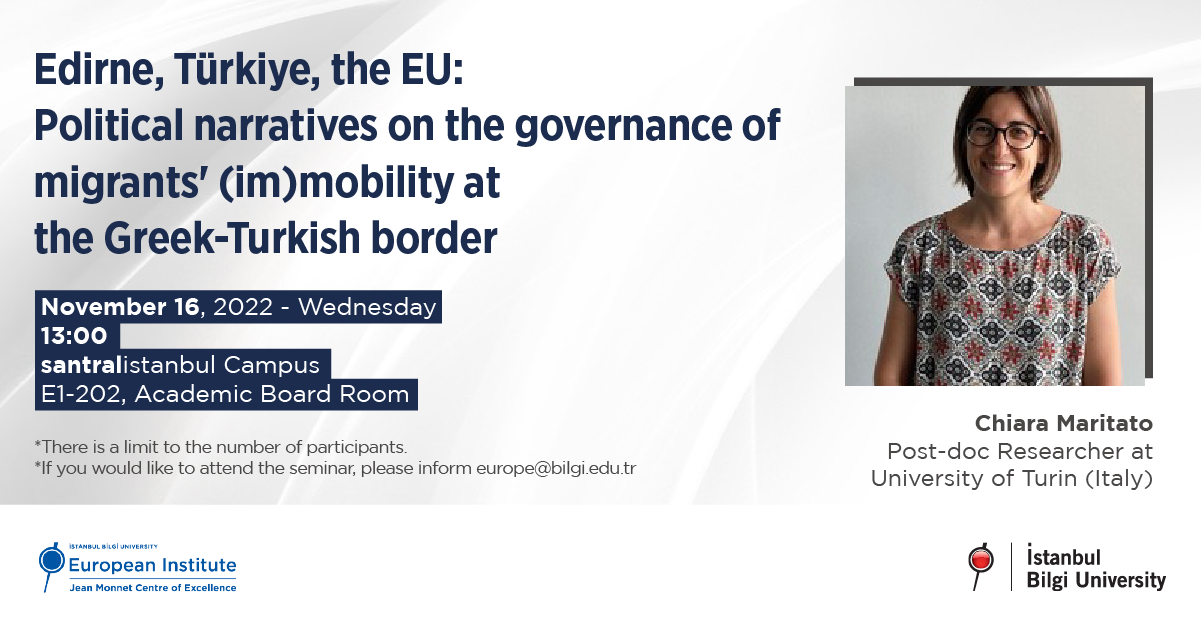 İstanbul Bilgi University's European Institute is organizing a seminar on November 16, at 13:00 at E1-202, the Academic Board Room. Dr. Chiara Maritato, a postdoctoral researcher from the Department of Cultures, Politics and Society at the University of Turin, will be our guest speaker in the seminar. The event will be held in English.
If you would like to attend the seminar, please send an e-mail to europe@bilgi.edu.tr
Speaker: Chiara Maritato - Postdoctoral Researcher at The University of Turin (Italy)
Date: November 16, 2022, 13:00
Place: santralistanbul Campus, E1-202, Academic Board Room
Short abstract: Over the last few decades, the migration corridor from Türkiye to Greece – often referred to as the Eastern Mediterranean route – has emerged as a major conduit into the EU. Drawing on field research in Edirne and in villages at the Greek-Turkish border, the seminar presents some results and ongoing reflections on the way migrant (im)mobility at the Greek/EU-Turkish border is governed and what this reflects about the evolution of Turkey-EU migration politics.
Bio: Chiara Maritato is a postdoctoral researcher at the Department of Cultures, Politics and Society at the University of Turin. Previously she was Assistant Professor at the Center for Southeast European Studies (CSEES) at the University of Graz and postdoctoral Visiting Fellow at the Stockholm University Institute for Turkish Studies (SUITS). Her research interests include the EU's externalization of border control, transit migration and the institutionalization of migrants' forced immobility, the governance of religious institutions in Türkiye and within Türkiye-originated diaspora communities in Europe.
* There is a limit to the number of participants.