updated at:
published at:
GLOBAL TRANSFORMATIONS: ASU-BİLGİ Talk Series IV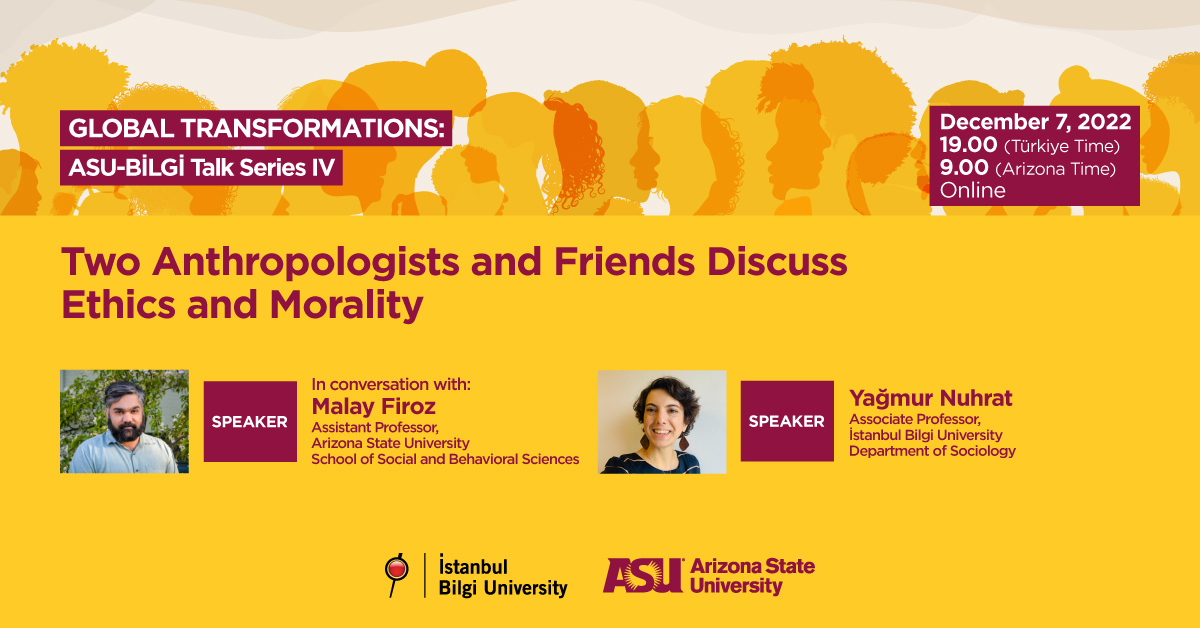 Date: December 7 – Wednesday
Time: 19:00 (Türkiye Time) / 09:00 (Arizona Time)
Online
Two Anthropologists and Friends Discuss Ethics and Morality
In conversation with
Speaker: Malay Firoz
Assistant Professor, Arizona State University
School of Social and Behavioral Sciences
Speaker: Yağmur Nuhrat
Associate Professor, İstanbul Bilgi University
Department of Sociology
Malay Firoz is an assistant professor of anthropology in the School of Social and Behavioral Sciences at Arizona State University. He holds a doctorate in anthropology and an MA in modern culture and media from Brown University, as well as an MA in sociology from Delhi University. His research is located at the intersections of the anthropology of humanitarianism, the anthropology of ethics, political theory, postcolonial theory, forced migration studies and Middle East studies.
Firoz's current project explores the politics of humanitarian aid for Syrian and Palestinian refugees in Jordan and Lebanon, using a comparative ethnographic lens to examine a recent turn within humanitarianism towards "resilience-based" approaches to aid. His project traces how the resilience paradigm draws humanitarian organizations into deeper entanglements with the political priorities of asylum states, and analyzes the ethical implications of this paradigm for refugee rights and humanitarian principles. He also pursues a separate intellectual interest in contemporary war and the changing relationships between military technology, racialized violence and media representation from the Cold War to the drone age.
Firoz's work has been supported by the Woodrow Wilson Foundation, the National Science Foundation, the American Philosophical Society, the Watson Institute for International and Public Affairs and Brown University.
Yağmur Nuhrat is associate professor at İstanbul Bilgi University, Department of Sociology. After completing her BA in sociology at Boğaziçi University, she received her MA and PhD in anthropology at Brown University where she studied fairness and 'fair play' in football. Nuhrat's research interests and publications center on the anthropology of ethics and morality, gender and language in football, and urban anthropology. She is currently working on the Erasmus+ SINAFE project analyzing African athletes' migration stories vis-à-vis inclusion; she is working on a book project about ethical and moral negotiations around plagiarism in higher education and she has recently started a study interrogating ethics through consumption in
Click here to register in advance for this webinar.