updated at:
published at:
Jarracharra:Dry Season Wind and host exhibition Clothes off the Loom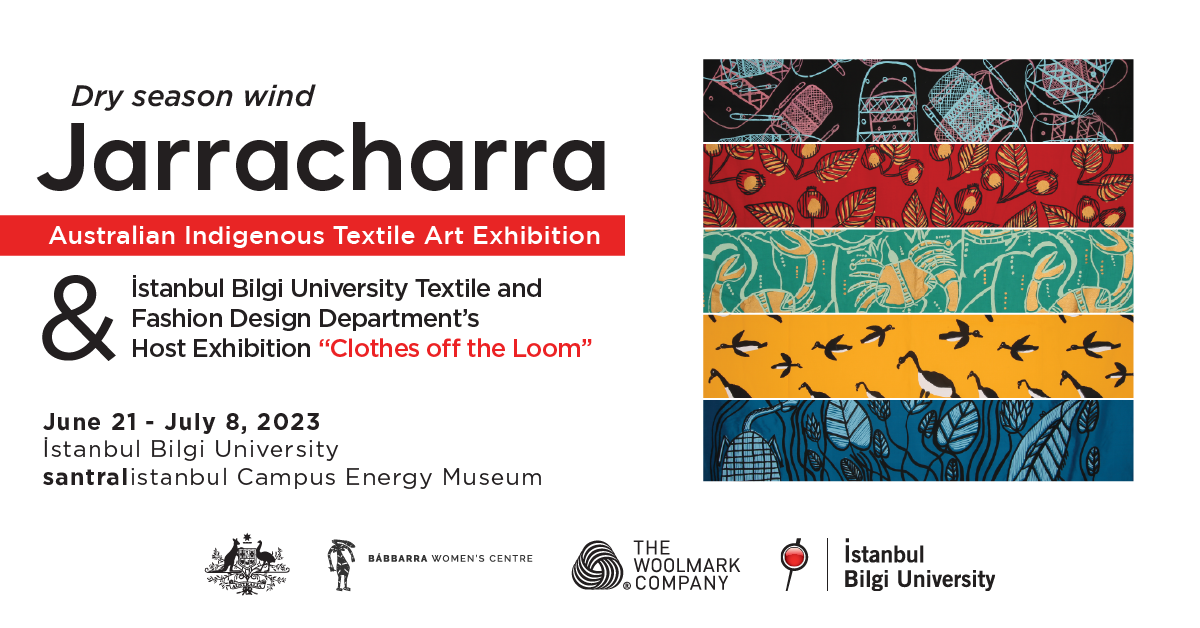 Date: June 21-July 8, 2023
Place: santralistanbul Campus
JARRACHARRA: Dry Season Wind – Australian Indigenous Art
with the host exhibition "Clothes off the Loom"
Curatorial Statement:
Where do we belong?
This exhibition brings together Australian Indigenous artists from Babbarra Women's Center, and students from Textile and Fashion Design Department at İstanbul Bilgi University with different cultural backgrounds having the common goal of increasing the visibility of "value", "protection", and "empowerment" for one's homeland, country, community, and planet through the material of "textiles." "Jarracharra: Dry Season Wind" marks a special period of travel between homelands and country for family visits, ceremonies, singing, and dancing, and it represents how Babbarra artists bring together different stories of indigenous culture across Arnhem Land with textile patterns. "Clothes off the Loom" is a design proposal for responsible garment production using the entire textile width. The textile materials used for the designs are mostly Woolmark-licensed Merino wool blends (for 17 out of 20 design themes) and all of them are deadstock fabric.
Textiles have been a material of artistic refinement and cultural expression through which narratives are transferred from generation to generation. One can discover the holistic statements of one culture and its relationship to the world and nature by examining textiles. The colours, motifs, and patterns created with textiles are representations of a culture's cosmology. The cultural meanings of the designs of Australian Indigenous artists evolve around the themes of belonging, deep connection, and love towards the communities and the land they live in. The imagery depicted in the artists' designs is associated with "djang", a Kuninkju term relating to ancestral spirits and the country's powers. This term was roughly translated to "dreaming" in the past. In this exhibition, among the "djang", there are particular objects, sites, plants, and spirits depicted with the screenprints. Some of the "djangs" in this exhibition are woven objects like dilly bags (kunmadj), fish traps (mandjabu), wild foods (manme), spirits like Yawkyawk (kunwaral), and motherland (kunred).[1] As a material for artistic and cultural expression and a foundation for garments, textile material bridges different cultures through the yarns of "protection", "value", and "empowerment" one more time.
Who do we protect?
The connection of the Indigenous artists with their land is proposed as an inspiration with the themes "value, protection and empowerment" for today's modern culture built on cycles of consumption of landscapes, materials, and communities. One can easily trace the modern throwaway culture of clothing as a disposable item in the fashion industry. The expectations of consumers and the availability of cheap clothing produce constant fresh looks at the cost of negative environmental impact and underpaid, overworked labour forces. İstanbul Bilgi University Textile and Fashion Design Department students appreciate the urgency to propose a new design methodology for sustainability in fashion. Research in fashion sustainability suggests that the production stage of garments creates the most material and environmental waste. After designers design the apparel, pattern-makers prepare and cut the patterns as efficiently as possible. Still, the pattern-cutting stage is one of the production stages where a minimum of 10 to 15 percent of fabric is wasted before the garment is sewn. As one can eliminate fabric waste through design decisions, "Clothes off the Loom" proposes zero-waste and/or minimal-waste pattern-cutting techniques to eliminate the waste of precious textile material produced with natural and human resources. Protecting and valuing the time, land, natural resources, human labour, and energy devoted to garment production with responsible pattern-design integration is central to the designs' ethos. Thoughtful design-pattern integration in the industry, where a designer uses all the fabric width without waste, will impact our shared material landscape and provide an act of self-empowerment.
What empowers us?
The Babbarra Women's Centre is located in Maningrida[2], an Aboriginal community on the coast of the Arafura Sea in West Arnhem Land. Babbarra is one of Australia's oldest Indigenous textile enterprises, representing over 25 artists with over 70 screenprint designs.
"Jarracharra: Dry Season Wind" explores the values and pride Australian Indigenous women from the Maningrida region feel for their homelands and country. The land has the most linguistically diverse communities, with at least 12 languages spoken. Artists in this exhibition can speak four to eight languages.
"We are thinking always of our country. Every time. Every single time. It does not matter for our fabric or for bark, we are always thinking we are at our homeland, thinking about our country."
Deborah Wurrkdij
The primary motivation behind the zero-waste pattern-cutting designs is to use all the fabric width coming off the weaving loom with one or more garments. Zero-waste or minimal waste pattern-cutting design technique will move more people to a circular industry rather than a system that depletes living systems and resources; to value and protect our lands and communities and be empowered by our actions. Using 100% biodegradable wool fibre with Woolmark-licensed fabrics is another contribution to circular design ethos, as growing wool has the potential to sequester large amounts of carbon and enhance biodiversity.[3]
Babbara Women's Centre Artists:
Deborah Wurrkidj
Helen Lanyinwanga
Jennifer Wurrkidj
Elizabeth Kandabuma
Sonia Namarnyilk
Kylie Hall
Janet Marawarr
Melba Gunjarrwanga
Dora Diaguma
Elizabeth Kala Kala
Belinda Kuriniya
Susan Marawarr
İstanbul Bilgi University Textile and Fashion Design Department Students:
Alaa Al-Salafi
Ayça Kesan
Aytak Malekpour Farsadi
Bengüsu Alparslan
Betül Beyza Taşova
Ela Semiz
Eylül Gözen
Marina Arefeva
Miyuki Yanagisawa
Mohammed Faisal Aloran
Murat Karagüven
Nisa Çiçek
Orhan Bayraktaroğlu
Pelin Özbek
Pelinsu Karasu
Samet Topuz
Samira Zehra Diker
Selçuk Durdu
Click here for more information.
[1] Jessica Philips and Ingrid Johanson, Babbarra Women's Centre. (2019) Jarracharra: Dry Season Wind.
[2] This word is derived from "mane djan karirra" meaning where the ancestor spirit changed shape in Ndjebbana language.
[3] Wool Facts - Wool in the Circular Economy, The Woolmark Company, 2022: https://www.woolmark.com/globa...