updated at:
published at:
History Talks: "Fiction in the Neighborhood: Gossip, Desire and Murder"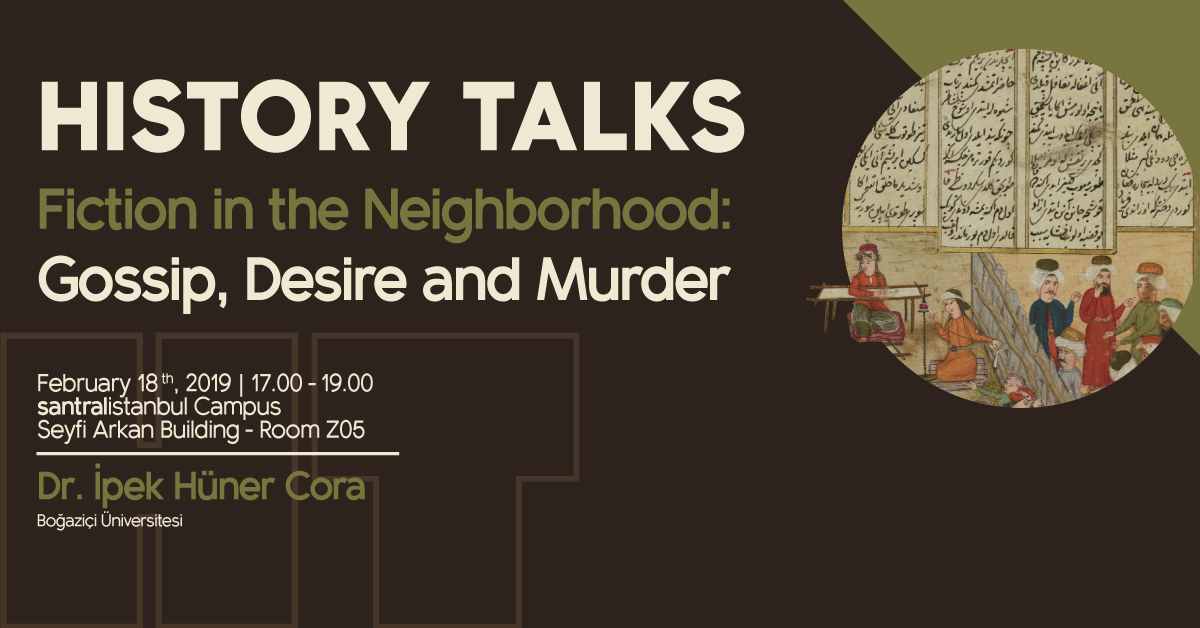 History Talks are organized by İstanbul Bilgi University Department of History.
Speaker: Dr. İpek Hüner Cora (Boğaziçi University)
Date: February 18, 2019
Time: 17.00-19:00
Place: santralistanbul Campus, Seyfi Arkan building, Z-05
The fictional stories featuring neighborhoods reflect both the normative and practical facets of living in a close-knit community and the necessity to conform to its norms. Early Modern Ottoman fiction does not represent the neighborhood as the imagined place of social support modern nostalgia makes it out to be but more one of social control—yet one cannot deny the strong bonds among the members of the neighborhood community and the moral values attributed to the neighborhood. The people of the neighborhood, ehl-i maḥalle, appear in stories as a character with a single voice.
If one focuses on the functioning of the ehl-i maḥalle (or vice versa) supplemented by other prominent characters the imam, the ṣubaşı and the qadi—the neighborhood is primarily a male space created through the public performances of these men. However, when the question is the neighborhood morals and the flow of information/gossip, women are fundamental members of the neighborhood community—their conduct of life and visibility reflect not only on their husbands and fathers, but also on their neighborhood.
In this talk, Dr. İpek Hüner Cora will discuss different facets of gossip in a neighborhood as represented in fiction: Scenes staged for the ears of the nosy neighbors (and its circumstances), falling in love with neighbors (and its consequences), the circulation of gossip (and different morals extracted from it), and the things the fear of exposure may lead to (in this case, the murder of dozens of people).

İpek Hüner Cora completed her Ph.D. at the Department of Near Eastern Languages and Civilizations at the University of Chicago in Fall 2018 and she is currently teaching at Boğaziçi University. Her work focuses on the history of Ottoman literature, gender, and sexuality. Her work questions primarily how different actors, as well as their social and spatial relations, were narrated and perceived in Ottoman literary fiction. By doing so, it proposes to add to our knowledge of gender and literature in the Ottoman Empire and, more specifically, to provide insights into Early Modern Ottoman minds and mentalities.