updated at:
published at:
History Talks: "Lost in the City: Spatial and Racial Politics in the Israel of the 1950s"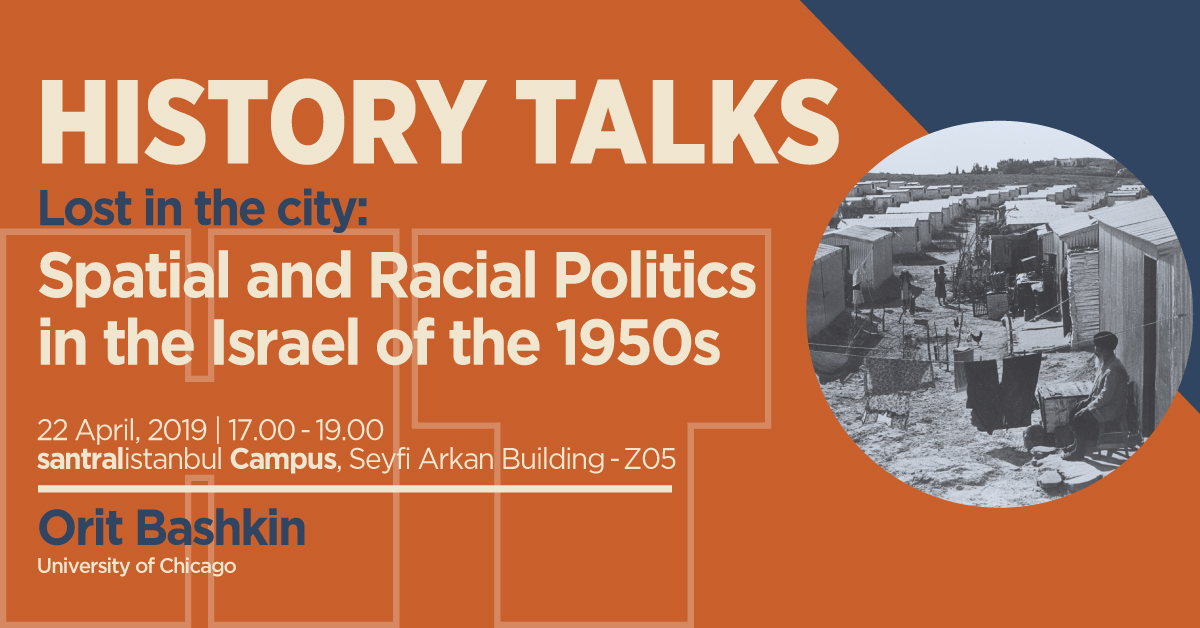 Speaker: Orit Bashkin (University of Chicago, Near Eastern Languages and Civilizations Department)
History Talks are organized by İstanbul Bilgi University Department of History.
Date: 22 April 2019
Time: 17.00-19.00
Place: santralistanbul Campus, Seyfi Arıkan building-Z05
This talk focuses on the Israeli agricultural community (moshava) of Herzliya in the years 1948-1960. I focus on Holocaust survivors and migrants from Arab states and Turkey, who replaced the indigenous Palestinian population in the vicinity of Herzliya. These newcomers lived as refugees in Herzliya: their property in their home countries was often confiscated or frozen; they could not find work, feed their children and themselves, or get access to water without the support of the Israeli state; and they rotted in shacks and tents in Israeli transit camps that were no different from refugee camps. I show how these reluctant settlers served the state's interests: they populated deserted villages, thus preventing their original inhabitants from returning, and they became workers in the factories which were built over these territories. I argue that the presence of these communities and their struggles to improve their socioeconomic conditions dramatically changed the nature of Herzliya. Finally, I illustrate how the presence of a large number of refugees and displaced individuals led to the rise of sectarian politics, addressed specifically to Mizrahim, i.e., Jews from Middle Eastern countries. In Herzliya, the division between Mizrahim and Ashkenazim [European Jews] was the product of realities created after the migration of these newcomers to the city and not beforehand.

Orit Bashkin:
Orit Bashkin is a historian, who works on the intellectual, social and cultural history of the modern Middle East. She received her Ph.D. from Princeton University (2004) with a thesis on Iraqi intellectual history under the supervision of Professors Robert Tignor and Samah Selim. She is currently a professor of modern Middle Eastern history in the Department of Near Eastern Languages and Civilizations at the University of Chicago. Her publications focus on Iraqi history, the history of Iraqi Jews, the Arab cultural revival movement (the nahda) in the late 19th century, and the connections between modern Arab history and Arabic literature. Her current research project explores the lives of Iraqi Jews in Israel. At the University of Chicago, she teaches classes on nationalism, colonialism and postcolonialism in the Middle East, modern Islamic civilization, and Israeli history.