updated at:
published at:
Panel: "Visualisation and Architectural Methodology"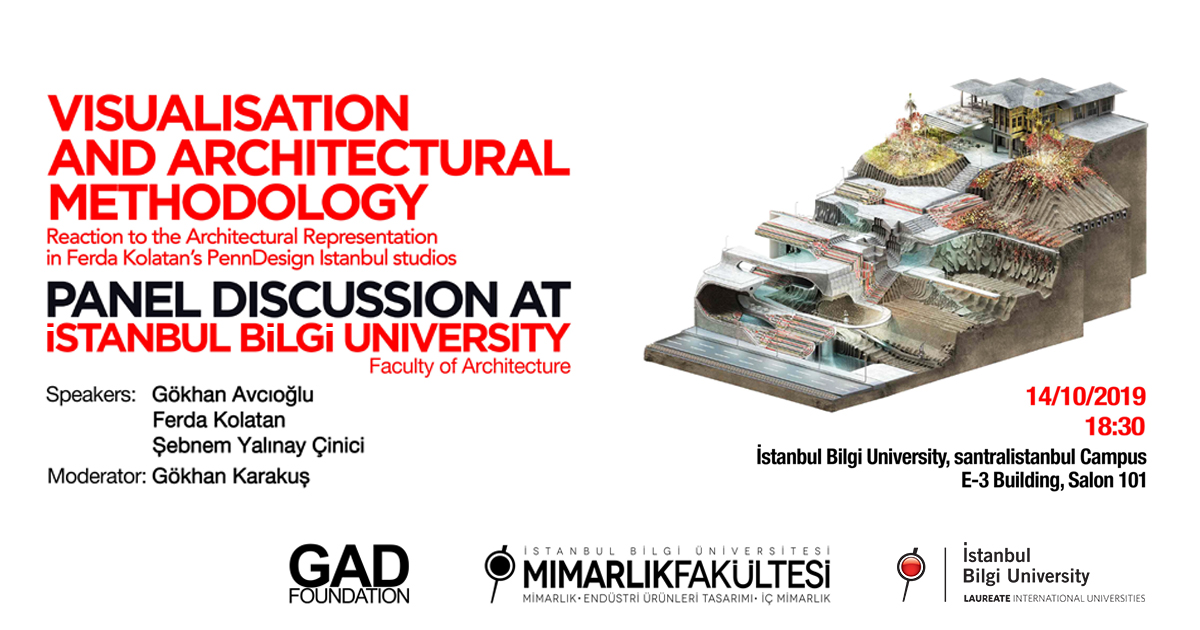 Reaction to the Architectural Representation in Ferda Kolatan's PennDesign İstanbul studios
Moderator: Gökhan Karakuş
Panelists: Ferda Kolatan, Şebnem Yalınay Çinici, Gökhan Avcıoğlu
İstanbul Bilgi University Faculty of Architecture hosts the panel discussion, between Ferda Kolatan, Gökhan Avcıoğlu, Şebnem Yalınay Çinici moderated by Gökhan Karakuş will seek to understand the role of the architectural image in architectural discourse.

Date: October 14, 2019 Monday
Time: 18.30
Place: santralistanbul Campus, E3-101
The role of representation in architecture has been a central feature of practice since ancient times. From the Renaissance to Modern Architecture, from Palladian perspective to Beaux-Arts atmospheric drawings to Modernist collage, the visual representation of architecture has occupied the minds of architects as much the designs themselves. Later in the 20th century visualization conceptually twisted by iconographic issues in post-modern architecture created an even more combative relation between the representation of architecture and architecture as building as can be seen in the work of figures such as Robert Venturi, Lebbeus Woods, Zaha Hadid and Rem Koolhaas.
But we can also clearly see that this issue has never been as contentious as it is today. Today with the assistance of computers and computational design we have a plethora of embellished, faux-realistic depictions of unbuilt structures saturating architectural publishing, online media in particular, accompanying everything from press releases to critical texts. Intriguingly as a counter movement and reaction, many architects are turning to analog drawing and modernist collage visualistation techniques to counter balance the undue influence of computers. There has also been the reverse interest of highly informational diagrammatic representation relying on data and information design and graphics.
Other perspectives have tried to subsume visualization more completely into a thorough architectural methodology existing between the image and the real or physical manifestation. This strategy can be seen in a series of Master Studios at PennDesign led by Ferda Kolatan who sought an architecture that according to him, "Rather than suggest(ing) specific solutions, we wanted to present prototypes that
can be implemented at different scales". Removing the issue of scale and focusing on the hybridized objects Kolatan's studios utilized a unique visual representational language to flesh out this architecture.
This panel discussion between Ferda Kolatan, Gökhan Avcıoğlu, Şebnem Yalınay Çinici moderated by Gökhan Karakuş will seek to understand the role of the architectural image in architectural discourse. They will discuss parameters and scenarious in the era of Instagram and online architecture media ruled by hyperreal pictorial renders generated by architectural visualizers.
Different approaches represented by architects in Istanbul including the visualization/diagrammatic hybrid employed by Gökhan Avcıoğlu of GAD, the computational design approach of Şebnem Yalınay Çinici will be at center of discussion moderated by Gökhan Karakuş.
*Representation will be held in English without translation.
About speakers:
Ferda Kolatan
Ferda Kolatan is the Founding Director of su11 and an Associate Professor of Practice at the University of Pennslyvania. He received his Architectural Diploma (Dipl.Ing) from the RWTH Aachen and his Masters in Architecture (MSAAD) from Columbia University where he was the recipient of the LSL Memorial Prize and the Honor Award for Excellence in Design. Ferda has lectured widely and taught design, fabrication, and theory courses at institutions such as Columbia University, SCI-Arc, Pratt Institute, RWTH Aachen, Rensselaer Polytechnic Institute, Washington University, CCA, UCAM, University of British Columbia, and Cornell University. He is also a co-author of the book Meander: Variegating Architecture (Bentley Press, 2011) and was selected as a Young Society Leader by the American Turkish Society in 2011.
Şebnem Yalınay Çinici
Şebnem Yalınay Çinici, Head of Architecture Department at İstanbul Bilgi University, received her B.Arch (1989), M.Arch (1991) and Ph.D. (1999) degrees from Middle East Technical University, Department of Architecture; and completed her Post-Doctorate (2001) studies in Graduate School of Architecture, Planning and Preservation at Columbia University. She pursued her academic career at METU, Department of Architecture in 1991-2006, and at Yildiz Technical University in 2006-2011. She has been delivering courses at İstanbul Bilgi University since 2007. In 2003 she founded and initiated Digital Design Studio in the Undergraduate Program of METU, Department of Architecture. Besides conducting first year basic-design studios and design studios of various levels; her major field of research is ontology, technology and philosophy, architectural design, high-end design+production technologies and their integration into design education. She has numerous national and international works and publications on her research topics. Being involved since the foundation of the Faculty of Architecture in 2009, Şebnem Yalınay Çinici has been continuing her academic carrer in the Department of Architecture at Istanbul Bilgi University since 2011, where she is the Head of Department.
Gökhan Avcıoğlu
Gökhan Avcıoğlu completed his education in KSU/BA in Architecture. He is the principal and founder of GAD in Istanbul, established in 1994. Among his projects are office buildings, public spaces, commercial spaces and residences in Istanbul, Bodrum, New Jersey, Washington DC, Virginia and Connecticut. Among his most recent award winning projects are Media City, AKH KNDU Villas, KUUM Hotel and Residences, Pınar Logistics Centre, Fish Market and Trump Cadde. A number of his projects have been short-listed for the Aga Khan Award for Architecture. He has been recognized by a number of different publications, including Wallpaper, Surface, City Magazine, NY Times, The New York Post, Transforming Cities - Urban Interventions in Public Cities, Archtekturfuehrer Istanbul, Monocle, Architectural Digest, Architectural Record, plus design books such as World Houses Now, Urban Houses and Cafes, Restaurants and Bars, Atlas of Contemporary Architecture. Mr. Avcıoğlu has been conducting studios and seminars at the Ecole Speciale d'Architecture in Paris, Yıldız Technical University and Istanbul Technical University. Gokhan Avcioglu is a member of AIA New York Chapter, Chamber of Architects Turkey.
Gökhan Karakuş
Gökhan Karakuş is an Istanbul-based designer, curator, historian, architecture critic and theorist who focuses on the indigenous in modern architecture and design. He studied architectural history and theory at Columbia University and Vassar Collage in New York. He is the founder and director of Emedya Design, an interactive and environmental design studio that has completed a number of large scale wayfinding projects in Turkey that have been published internationally. He has taught design and architecture at Istanbul Technical University (1999-2014), Politecnico di Milano, and Bilgi University, Istanbul. Mr. Karakuş is a regular contributor to leading global architecture publications such as The Architect's Journal, Architectural Record, Dwell, and Wallpaper; he was Editorial Director of Natura, Stone Architecture and Interiors from 2011-2015. He is also a curator of exhibitions on architecture and design such as Hyperarchaic Tectonics at the London Design Festival 2014, The Smooth and the Striated Digital Art by Architects at the Contemporary Istanbul Art Fair 2013 (focused on computational design as art) and most recently Atölye Maslak (2015) on Istanbul's craft and maker community in the Maslak industrial district. He is reviewer and nominator for the Aga Khan Award for Architecture and The European Union Prize for Contemporary Architecture – Mies van der Rohe Award. He has been on the Advisory Board for the Turkish National Pavilion at the Venice Architecture Biennial (2014) and the Istanbul Design Biennial (2016).