updated at:
published at:
Lecture: Methods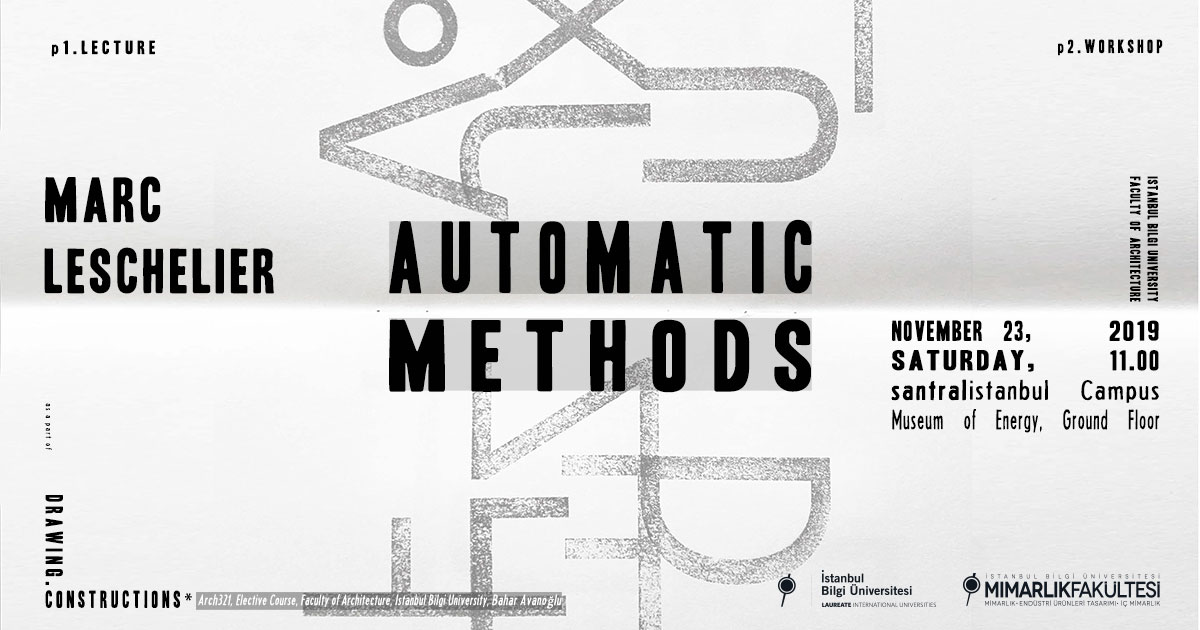 Speaker: Marc Leschelier
Date: 23 November 2019
Time: 11.00
Place: santralistanbul, Museum of Energy, Ground Floor
The lecture is organized by İstanbul Bilgi University Faculty of Architecture.
The lecture 'Automatic Methods' will attempt to reconstruct a brief history of automatic drawing in the history of architecture as a practice nourished as much by the plastic arts as by other fields as dark as occultism. The study of automatic drawing reveals a set of notions that challenge the intellectual edifice of architecture in the sense that spontaneous or unintentional drawing has never been seriously considered by the discipline, always stopped by rationalism and permanent legitimization in the design process.
The lecture will be followed by an open-discussion workshop session, based on the on-going student works of the elective course, Drawing Constructions*.
Presentation will be held in English.
*As part of the elective course Drawing Constructions (Arch 321) at the Faculty of Architecture, Istanbul Bilgi University, instructed by Bahar Avanoğlu.
Students:
Abdal Karim Rabi, Aea Bezzeh, Arij Ismaiel, Begüm Gönan, Beliz Şaşmaz, Berfin Tan, Berkay Kadakal, Beyza Özmen, Beyza Nur Öncel, Çağla Şahin, Ceren Zeybek, Dilara Koca, Duru Kalınoğlu, Egemen Uslu, Elnur Veliev, Esra Eyüboğlu, Esra Vanlı, Esraa Hazem Shawki Atia Mahmoud Rehan, Fırat Balıkçı, Habiba Galal Alsayed Diab Deib, İrem Ersoy, İrem İlayda Çeçen, İrem Tuğba Taşdemir, Kaan Öründü, Kuntay Seferoğlu, Nisa Çavuşoğlu, Nurşen Nesil Güler, Petek Doğa Dayıoğlu, Rasha Ayman H Alassali, Razan Abdulrahman Wajeeh Zainulabdeen, Samirah Nabeel A. Koshak, Seçil Soyyiğit, Sena Kavaf, Simge Artkıy, Tolga Kaya, Uğur Onat Bektaş, Zeynep Yılmaz, Zeynep Derin Balıkçı.
Marc Leschelier:
Marc Leschelier (1984) is an architect and educator. He's the founder of the Unbuilt Archive, an open-source archive specialized in radical architecture's texts and manifestos. He lives and works between Milan and Paris.
During the year 2017/2018, he was a fellow at the Villa Medici in Rome. His architectural projects, carried out in three different mediums - actions, models and prototypes - lead to the development of an architectural language by an incrementation of experiments. Thus, the work explores the possibility of a spontaneous formation of architecture through direct operations and processes. Recent works - such as Worksite I,II & III - were performances of spontaneous building. Those experimentations produced prototypes to be gathered in one single building one day. Marc is at the moment designing a building in Bordeaux and he'll build next September a Pavilion in the parc of a castle in Burgundy.
He has participated to several symposiums at EHESS Paris, Foundation Hartung Bergman or held public lectures at Villa Medicis. He received in 2011 the research grant from the Le Corbusier Foundation. He's at the moment working on a book about Raimund Abraham based on a film by Jonas Mekas to be published by NERO editions, the project has been awarded by the Graham Foundation.