updated at:
published at:
Team up and transform the future!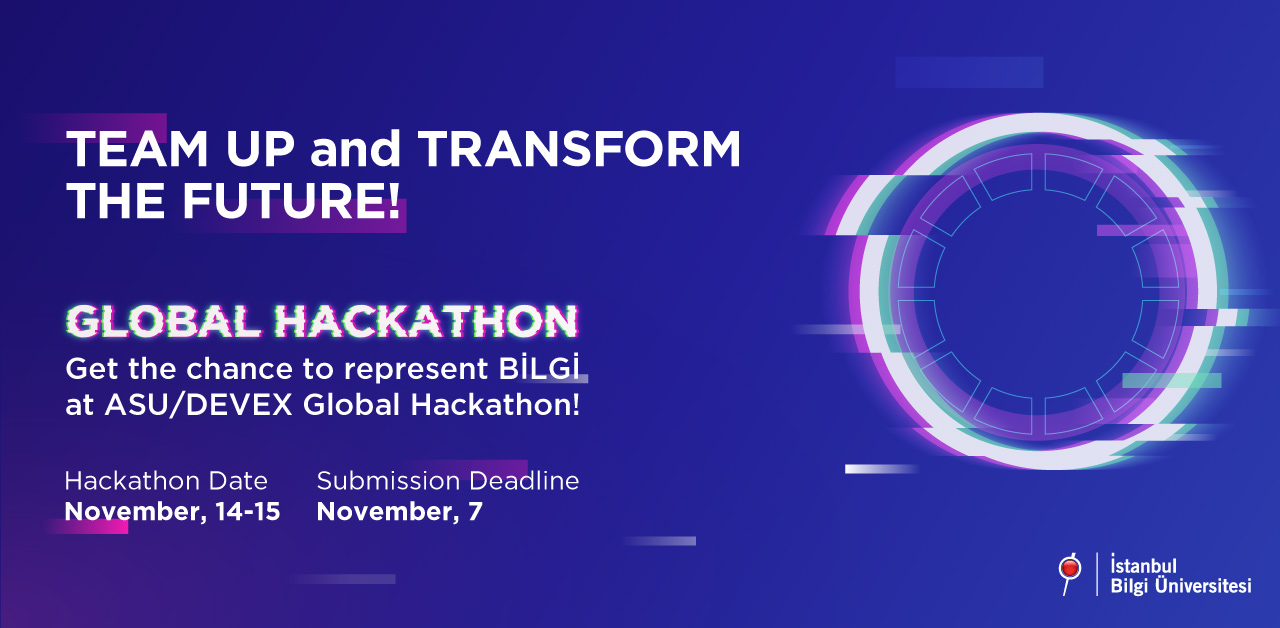 Team up and transform the future!
Get the chance to represent BİLGİ at ASU/Devex Global Hackathon!
Arizona State University and Devex are hosting a global hackathon. Open to universities from anywhere in the world, the hackathon calls on students to create solutions to 5 real-world development challenges aligned with the United Nations Sustainable Development Goals (UN SDGs). One winning team in each challenge category will showcase its solution at Devex World and receive opportunities to further develop their idea.
Universities all around world will submit one video describing their solution for each of the 5 challenge questions. Expert judges will select a winning team for each challenge based on impact, innovation, and scalability. Among these 5 challenges, BİLGİ is dedicated to work for the category of "Business Transforming Development Challenge" and will host its own hackathon to recruit BİLGİ students to participate in ASU/Devex Global Hackathon.
Create your own 4-person-teams from at least 2 different departments and take on BİLGİ's hackathon challenge with your project:
Are there spaces, places, materials or systems in a city you know well that you might redesign, rethink, repair or repurpose in ways that add social, natural or economic benefits?

How can your solution help your community leapfrog into truly innovative spaces?

How will your solution advance progress toward Sustainable Development Goals, in particular SDG 11: make cities and human settlements inclusive, safe, resilient and sustainable?
The winning team will represent BİLGİ at ASU/Devex Global Hackathon!
This is an opportunity for university students around the globe to develop sustainable solutions to the world's challenges through collaboration, innovation and interdisciplinary creativity.
SUBMISSION DETAILS:
To participate in BİLGİ's Hackathon Challenge, create a 4-person-team from 2 different departments and send team information to globalhackaton@bilgi.edu.tr
ASSESSMENT:
Expert judges from BİLGİ will review the project proposals and select the best idea. A brief video in which the winning team describes their solution will be shot and posted on the Devex website until November 20.
The winning team of BİLGİ's Hackathon Challenge will participate in ASU/Devex Global Hackathon.
The winner of ASU/Devex Global Hackathon will be announced on December 10 at Devex World.
For further information about ASU/Devex Global Hackathon: https://pages.devex.com/devex-world-2020-hackathon.html