updated at:
published at:
EUIPO-EPO Pan-European Seal Professional Traineeship Programme Paid Traineeship Opportunity at EU Institutions for BİLGİ Graduates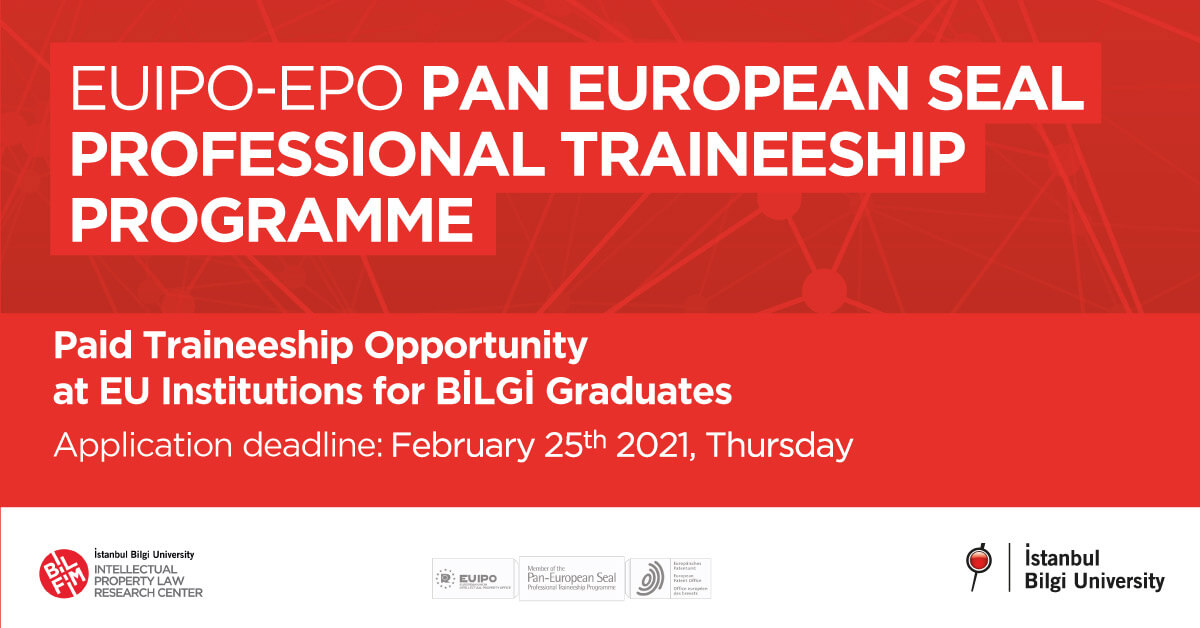 The Pan-European Seal Professional Traineeship Programme (the Pan-European Seal) is a paid traineeship program which is promoted in partnership by two of the world's largest IP offices, the European Union Intellectual Property Office (EUIPO) and the European Patent Office (EPO) together with their strategic University partners.
The successful applicants will have the opportunity to do a one year-long traineeship starting in September. They will be provided with a monthly grant, as well as other benefits such as on-the-job coaching by staff and online training. Training will take place at the EUIPO (Alicante, Spain) or the EPO (Munich, Germany).
Istanbul BİLGİ University has been invited and approved as a member of the Pan-European Seal Traineeship Programme through the Intellectual Property Law Research Center (BILFIM).
The Pan-European Seal Professional Traineeship Programme is offered to all alumni of Istanbul BİLGİ University undergraduate, graduate or Ph.D. programs. (The students who are going to graduate in June may also apply.) European Patent Office especially encourages the application of students and graduates of engineering schools.
More information about the Pan-European Seal Programme can be found here.
For the OHIM (ADM 14-15) (OHIM is the old name of EUIPO) decision establishing Pan-European Seal Programme which also includes terms and conditions with regard the program please click here
For the application requirements please read carefully the document available in this link.
Candidates who are interested in the program should send the application documents (in English, German or French) until February 25, 2021 to eda.cataklar@bilgi.edu.tr
An interview will be held with the eligible candidates on March 1, 2021. Candidates will be informed about the interview time by e-mail.