updated at:
published at:
Departmental Student Representative Elections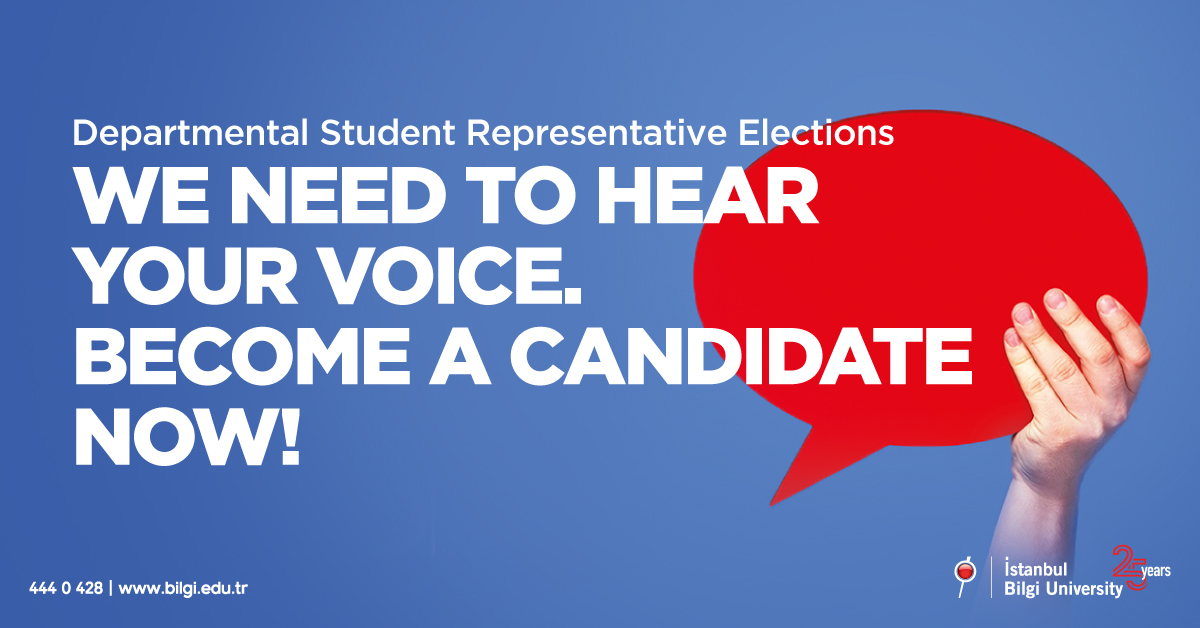 In order to form the Student Council that will serve in the 2021-2022 and 2022-2023 Academic Years at İstanbul Bilgi University, Departmental Student Representative Elections will be held on November 16-17-18, 2021.
Students who meet the following terms of application will be able to apply for the elections to be held for all departments attached to Faculties, Schools, and Vocational Schools.
Our students who will become a candidate for the Departmental Student Representative Elections must submit their applications between 13-24 October, 2021 via e-mail to aday2021@bilgi.edu.tr. Candidates must fill in the Application Form, Publicity Campaign Rules, and Candidate Presentation Text below.
Terms of Application:
Being a registered student of an associate degree or undergraduate program conducted by the relevant department, being at least a second-year student, and benefitting from student rights within the scope of İstanbul Bilgi University Credit System Undergraduate and Associate Degree Education and Examination Regulations.
Special students, students receiving education in the University within the framework of exchange programs, and equivalence recognition students cannot become a candidate in the elections. Students registered in minor programs cannot run for the student representative position for the department in which they are enrolled in a minor program; double-major students or students registered in more than one department may become a candidate only to represent one of these departments.
The student should be within his/her normal period of study.
The student should not freeze registration or take a leave of absence during the semester when the election is held.
The student should not have a criminal record for committing disgraceful crimes.
There should be no disciplinary penalty on the student's record other than a warning.
The cumulative grade point average of the student should be at least 2.75 in terms of academic achievement.
The student should not be a member or serve for political parties.
The student should have no affiliation, connection, or contact with terrorist organizations.
In case there is no candidate that is eligible to be elected, the departmental student representative election is not held and the representative position remains empty until the next by-election or regular election.
Click here for the Application Form.
Click here for the Publicity Campaign Rules.
Click here for the Candidate Presentation Text.
Click here for the Election Schedule.