updated at:
published at:
Pan-European Seal Professional Traineeship Programme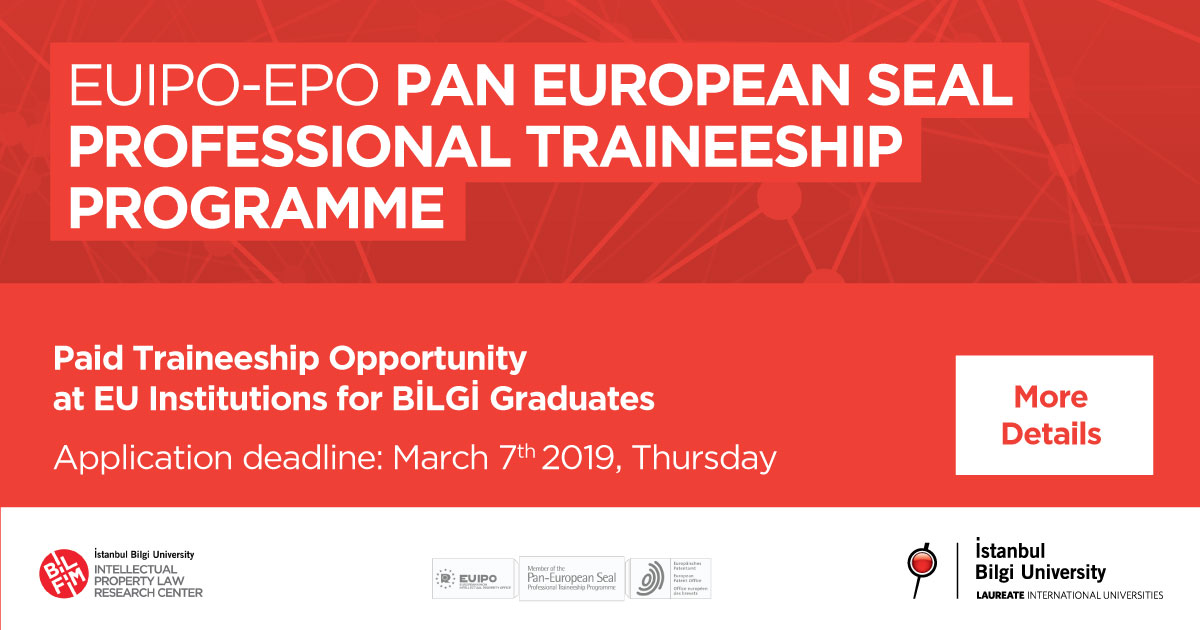 EUIPO-EPO
Paid Traineeship Opportunity at EU Institutions for BİLGİ Graduates

The Pan-European Seal Professional Traineeship Programme (the Pan-European Seal) is a paid traineeship program which is promoted in partnership by two of the world's largest IP offices, the European Union Intellectual Property Office (EUIPO) and the European Patent Office (EPO) together with their strategic University partners.
The program, that covers IP issues such as patents, trademarks and designs, has been considered as EUIPO and EPO's commitment to social responsibility. In the context of the ongoing fight against high levels of youth unemployment in Europe, the Pan-European Seal offers 100 traineeship posts every year, administered by both Offices.
The successful applicants will have the opportunity to do a one year-long traineeship starting in September. They will be provided with a grant of 1000 (EUIPO)/1400 (EPO) EUR per month, as well as other benefits such as on-the-job coaching by staff and online training. Training will take place at the EUIPO (Alicante, Spain) or the EPO (Munich, Germany) and the period of the Programme will end with a ceremony at each office to award the 10 best trainees with a merit diploma, and the rest of the trainees with attendance diplomas.
The EUIPO and the EPO will organize supporting training activities and lectures for the trainees of both organisations. Lectures will be provided by EUIPO and EPO staff, representatives of the private sector, as well as invited academics from the members of the Pan-European Seal. According to each Offices' topics of interest, academic research, both regarding master and PhD thesis, as well as the publication of papers and other materials will be encouraged by the EUIPO and the EPO.
İstanbul Bilgi University has been invited and approved as a member of the Pan-European Seal Traineeship Programme through the Intellectual Property Law Research Center (BILFIM).
The Pan-European Seal Professional Traineeship Programme is offered to all alumni of İstanbul Bilgi University undergraduate, graduate or Ph.D. programs. (The students who are going to graduate in June may also apply.) European Patent Office especially encourages the application of students and graduates of engineering schools.
More information about the Pan-European Seal Programme can be found here.
For the OHIM (ADM 14-15) (OHIM is the old name of EUIPO) decision establishing Pan-European Seal Programme which also includes terms and conditions with regard the program please click here
Ideal Profile of the Pan-European Seal Trainee
National from an EUIPO and/or EPO member state. A limited number of trainees may be selected from third countries.
Degree/Master in any academic areas such as law, engineering, management etc.
Candidates for EUIPO must complete, with certificate, at least one of the following online courses (the completion of modules is not enough): "EUTM in a Nutshell" or "RCD in a Nutshell" which are available on EUIPO Academy Learning Portal. (The candidates may complete courses more than the required number.)
Candidates for EPO must complete, with certificate (the completion of modules is not enough), at least the online courses listed below depending on the candidate's profile. The courses are available on EPO Academy Learning Portal. (The candidates may complete courses more than the required number.)
o Introduction to the European patent system (mandatory for all)
o Using CPC (mandatory for science and engineering only)
o The EPO as PCT authority (mandatory for all other academic areas)
Present (as a minimum) a certified B1 level (Common European Framework of Reference for languages) in one of the five working languages of the EUIPO (DE, EN, FR, IT, or ES) or one of the three working languages of the EPO (EN, FR and DE).
Participation in international programmes such as Erasmus, will be considered favourably.
Have customer service, organisational and prioritisation skills; communication skills; capacity to analyze problems and find appropriate solutions; ability to work independently as well as part of a team; responsibility, professionalism, flexibility and self-initiative.
EUIPO applicants are required to indicate their preferences as regards the different traineeship profiles which are listed below. However, the EUIPO is in no case bound by the preferences indicated, thus selected candidates may be offered any other position related to their profile different from the ones indicated in their application. The traineeship profiles are as follows.
Law
IP Law
Economics - Business administration
Information Technology

Customer service solutions
Data analyst
Software engineer

Communication
Facility management

Architect
Engineer
Logistics

Human Resources
IP & Knowledge management

Interview

An interview will be held with the eligible candidates on March 12, 2019. Candidates will be informed about the interview time by e-mail.
Registering for online courses
In order to register for online courses please click "Login" link on https://euipo.europa.eu/knowledge/course/view.php?id=1851 and create an account. After logging in the system, go to "e-Learning" on the same page. You will see the links of "EUIPO Academy Learning Portal " and "EPO's E-learning Portal". You may take one of the courses offered by those portals and providing a certificate. For example the "Introduction to Intellectual Property" course listed under the title of "Intellectual Property Catalogue" on EUIPO Academy Learning Portal page consists of two one-hour-long videos and a small online quiz. After successfully passing the exam it is possible to download the certificate.
Applications
Candidates who are interested in the program should send the below listed documents (in English, German or French) until March 7, 2019 to eda.cataklar@bilgi.edu.tr
Curriculum Vitae (Please attach your photo and write your phone number as well as an e-mail address that you actively use.)
A cover letter (600-1000 words long) including the statement of your purpose, the institution that you prefer to work with and for EUIPO applicants, the preferred trainee profile.
Undergraduate and, if applicable, graduate school and/or PhD diploma (At least one of the diplomas must be provided by İstanbul Bilgi University. The final year students may provide their transcript.)
Official transcripts of undergraduate and (if applicable) graduate programs.
Certificates proving that you have successfully completed the above listed online courses offered by EUIPO or EPO.
Information on the level of your language proficiency and certificates if you have any.
For detailed information please visit the Pan European Seal webpage.