updated at:
published at:
Pan-European Seal Professional Traineeship Programme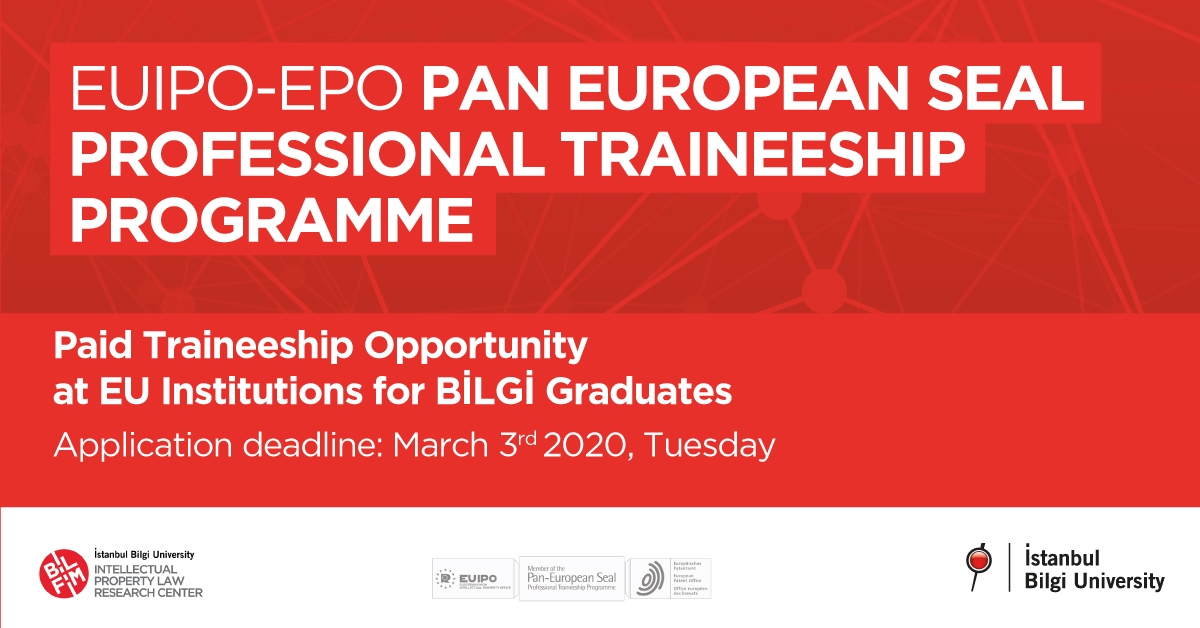 Paid Traineeship Opportunity at EU Institutions for BİLGİ Alumni
The Pan-European Seal Professional Traineeship Programme (the Pan-European Seal) is a paid traineeship program which is promoted in partnership by two of the world's largest IP offices, the European Union Intellectual Property Office (EUIPO) and the European Patent Office (EPO) together with their strategic University partners.
The program, that covers IP issues such as patents, trademarks and designs, has been considered as EUIPO and EPO's commitment to social responsibility. In the context of the ongoing fight against high levels of youth unemployment in Europe, the Pan-European Seal offers traineeships posts every year, administered by both Offices.
The successful applicants will have the opportunity to do a one year-long traineeship starting in September. They will be provided with a grant of 1000 (EUIPO)/1400 (EPO) EUR per month, as well as other benefits such as on-the-job coaching by staff and online training. Training will take place at the EUIPO (Alicante, Spain) or the EPO (Munich, Germany) and the period of the Programme will end with a ceremony at each office to award the 10 best trainees with a merit diploma, and the rest of the trainees with attendance diplomas.
The EUIPO and the EPO will organize supporting training activities and lectures for the trainees of both organizations. Lectures will be provided by EUIPO and EPO staff, representatives of the private sector, as well as invited academics from the members of the Pan-European Seal. According to each Offices' topics of interest, academic research, both regarding master and PhD thesis, as well as the publication of papers and other materials will be encouraged by the EUIPO and the EPO.
Istanbul Bilgi University has been invited and approved as a member of the Pan-European Seal Traineeship Programme through the Intellectual Property Law Research Center (BILFIM).
The Pan-European Seal Professional Traineeship Programme is offered to all alumni of Istanbul Bilgi University undergraduate, graduate or Ph.D. programs. (The students who are going to graduate in June may also apply.) European Patent Office especially encourages the application of students and graduates of engineering schools.
More information about the Pan-European Seal Programme can be found here.
For the OHIM (ADM 14-15) (OHIM is the old name of EUIPO) decision establishing Pan-European Seal Programme which also includes terms and conditions with regard the program please click here.

For the detailed information about traineeships at EUIPO please see.

For information about Ideal Profile of the Pan-European Seal Trainee, Interview, Registering for online courses and Applications click here.