Diploma Supplement
IN İSTANBUL BİLGİ UNIVERSITY, DIPLOMA SUPPLEMENT IS BEING ISSUED IN A WIDELY SPOKEN EUROPEAN LANGUAGE (ENGLISH) and GIVEN AUTOMATICALLY and FREE OF CHARGE TO EVERY STUDENT UPON GRADUATION.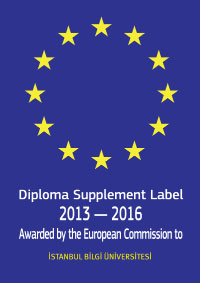 Diploma Supplement (DS)
The Diploma Supplement (DS) accompanies a higher education diploma, providing a standardised description of the natüre, level, context, content and status of the studies completed by its holder.
The Diploma Supplement (DS) is an annex, an explanatory note attached to a diploma awarded by a higher education institution.
Diploma Supplement, not only helps the definition of the phases of the graduates' education understood by different education systems but also gives detailed information about the degrees, levels, and vocational competencies of the graduate.
In İstanbul Bilgi University, Diploma Supplement is being issued in a widely spoken european language (English) and given automatically and free of charge to every student upon graduation.
For students, the Diploma Supplement offers:
A diploma that is more readable and easily comparable abroad
A precise description of their academic career and the competencies acquired during the study period
An objective description of their achievements and competencies
Easier access to opportunities of work or further studies abroad
It fosters their employability.
Each Diploma Supplement should start with the following preamble:
'This Diploma Supplement model was developed by the European Commission, Council of Europe and UNESCO/CEPES. The purpose of the supplement is to provide sufficient independent data to improve the international 'transparency' and fair academic and professional recognition of qualifications (diplomas, degrees, certificates etc.). It is designed to provide a description of the nature, level, context, content and status of the studies that were pursued and successfully completed by the individual named on the original qualification to which this supplement is appended. It should be free from any value judgments, equivalence statements or suggestions about recognition. Information in all eight sections should be provided. Where information is not provided, an explanation should give the reason why.'