Alumni
Ebru Kaya – graduate of 2017
From the time I preferred the Department of Genetics and Bioengineering until my graduation, my dreams and expectations continued to increase. The best explanation of the department is that this excitement will always be continuing. When I started my career, then I saw that I had gained the ability to apply what I had learned during our academic life. The most important factors in this acquisition are the broad visions of the precious instructors of the department, their guidance for the future and the fact that they are preparing you for life while teaching the difficult ones. In addition to analytical, İstanbul Bilgi University's Faculty of Engineering and Natural Sciences trains social, self-confident and enterprising engineers. All these contributions of BİLGİ have made me part of the industry-leading company Glaxo Smith Kline Pharmaceuticals after graduation.
---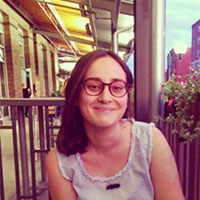 Dicle Yalçın – graduate of 2014
She is amongst the first to graduate from İstanbul Bilgi University Genetics and Bioengineering Department. Due to her interest in Bioinformatics, she has also gotten a minor degree in the Computer Science. After she graduated in 2014, she has been accepted to Universitat Pompeu Fabra -- Barcelona, Health Sciences & Bioinformatics Master Program though she has chosen to enroll a direct Ph.D. program offered by University of Nebraska -- Lincoln, Department of Electrical and Computer Engineering (Bioinformatics track). Her expected graduation year is 2019. She has been able to improve her skills outside of her bachelor's degree with ease due to the multi-disciplinary approach that governs her department and BİLGİ in general. Recently, one of her papers has been ranked second in the IEEE Region 4 and followingly, one of the posters she presented has been ranked first in the department. Her current research topic includes Epigenetics and Machine Learning; specifically building a robust and accurate model for elucidating cis-acting features in predicting the propensity of DNA methylation of CpG islands genome-wide. She says, without hesitation, that BİLGİ's approach in administering thorough guidance on both academic and corporate life, along with providing the comfort and independence in research to their undergraduates supported them in achieving their goals.
---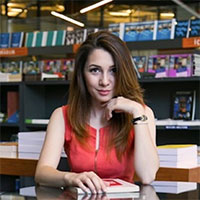 Almila Ceren Baykan – graduate of 2015
During her undergraduate studies in the Department of Genetics and Bioengineering at İstanbul Bilgi University she gained various experiences in laboratories and institutional companies. After the graduation, due to her enthusiasm for new technologies she worked in companies focused on the future, science and technology. In parallel, she kept the interest for research and science always alive. After her project-based work at the National Institutes of Health, she is currently working in the Biodesign Laboratory in the Institute of Biomedical Engineering at Boğaziçi University. According to Almila, the ability to adapt to different environments without any difficulty is due to the social and academic skills she acquired at İstanbul Bilgi University.
---
BİLGİ Graduates of Genetics and Bioengineering