RGB Studios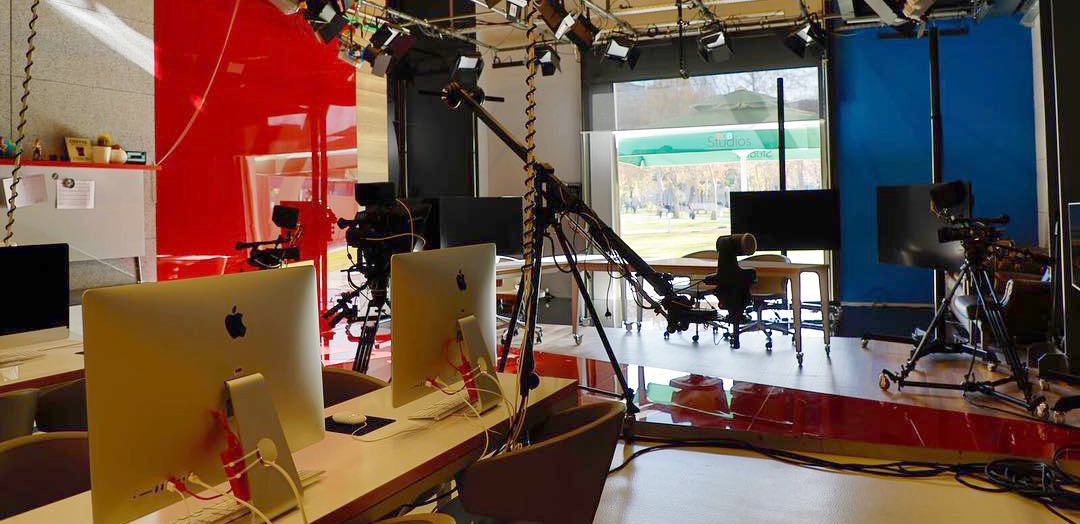 Red Studio
The Red Studio is the newest one of the Faculty of Communication's video production center, RGB, which is IP based and designed for news and TV production, including four cameras and stage direction.
Red Studio comprise of a main and a mezzanine floor. In main floor, watching and meeting rooms, editing units and filming platform are located. A broadcast ready jib camera crane, one camera dolly, five prompter featured Panasonic cameras including a robotic one and four led panels as decoration/video wall are available for shootings in the platform.
The center of the editing units, as an extension of the shooting platform, is made up of six iMac computers that are used in the post stages of all these productions. Red Studio can also work as a design unit with this equipment.
Red Direction Room located in mezzanine floor and is functionally integrated with the whole system, thus specifies as the hearth of the studio. All processes among light, sound, picture selecting, prompter, character generator and production-management are controlled by this room. Through next generation infrastructure, external connections can be increased on demand. The broadcast can be transferred to/from external sources like Skype, Youtube etc. via 3G based live broadcasting vehicle of the Faculty.
System connected main control room can transfer the incoming broadcast to any internet platform. Main Control provides broadcast transition between Green and Red Studios and enables the productions requiring double studios and simultaneous live broadcasting.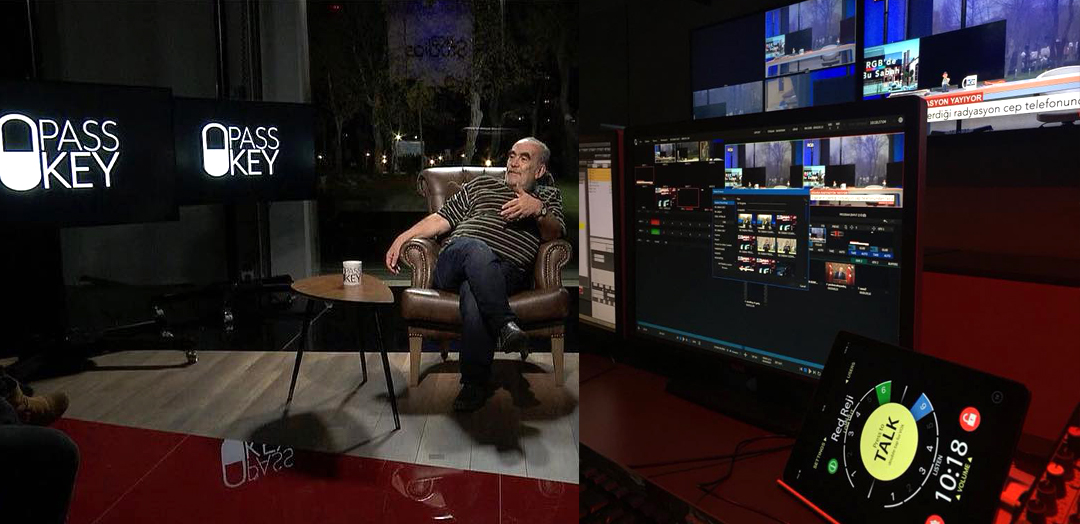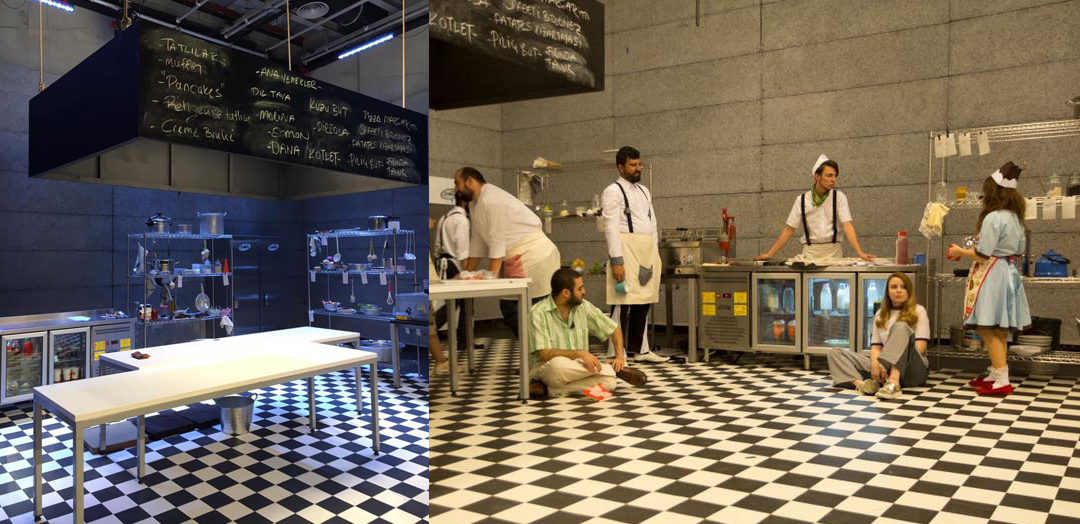 Green Studio
The head of the production studios of Faculty of Communication, the Green Studio has acoustic isolation and professional broadcasting standards within 200 square meters. Supported by HD direction, light and control room, the Green Studio additionally has a backstage and a makeup room. The studio has a door large enough for vehicles to enter. It is accessible to students' diverse needs, from television program formats to short films, performing arts to recording of live concerts…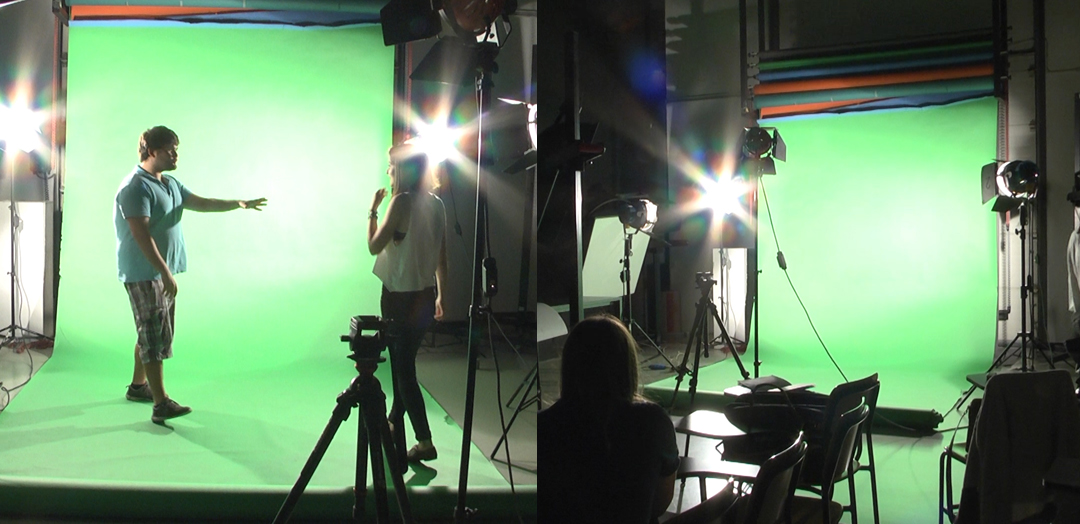 Blue Studio
The last division of RGB Studios is the BLUE Studio of Communications Faculty, which is a game development laboratory. In order to support all phases of game development work for different platforms such as PC, mobile and virtual reality, BLUE Studio offers industry-standard software such as Unity, Unreal Engine, Cryengine, Adobe Creative Cloud, AutoDesk Design Suite and Blender. The Blue Studio also offers 22 computers with up-to-date hardware. BLUE Studio is open 24 hours a day, 7 days a week and is located at santralistanbul campus.

Play Space
Playroom prototyping laboratory at the Faculty of Communications offers a free workspace where students can perform design, development and test applications in a wide variety of environments. In addition to game consoles such as Play Station 4 Pro, Play Station 3, Play Station Portable, and Xbox One, the lab also has a digital and analog game library where students can experience different types of games. Play Space also has the necessary hardware and basic motion capture hardware for game testing and development for different virtual reality platforms. As part of the game prototyping process, students can also use game design sets and 3D printing systems in Play Space. Play Space is open 24 hours a day, 7 days a week and is located at santralistanbul campus.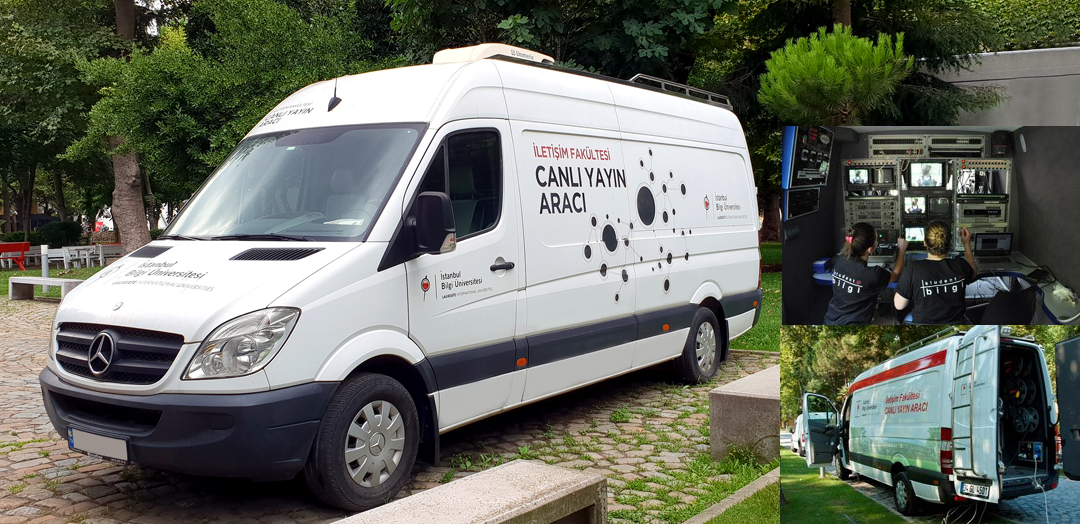 Live Broadcast Vehicle
Students are able to broadcast live via Internet from any location they desire by using the live broadcast vehicle of the Faculty of Communication. The vehicle supports up to 4 Betacam SP cameras and 2 VTRs, and if required, shooting quality can be enhanced with the use of jib. Students can broadcast live or recorded news from any location inside or outside of santralistanbul Campus via the live broadcast vehicle.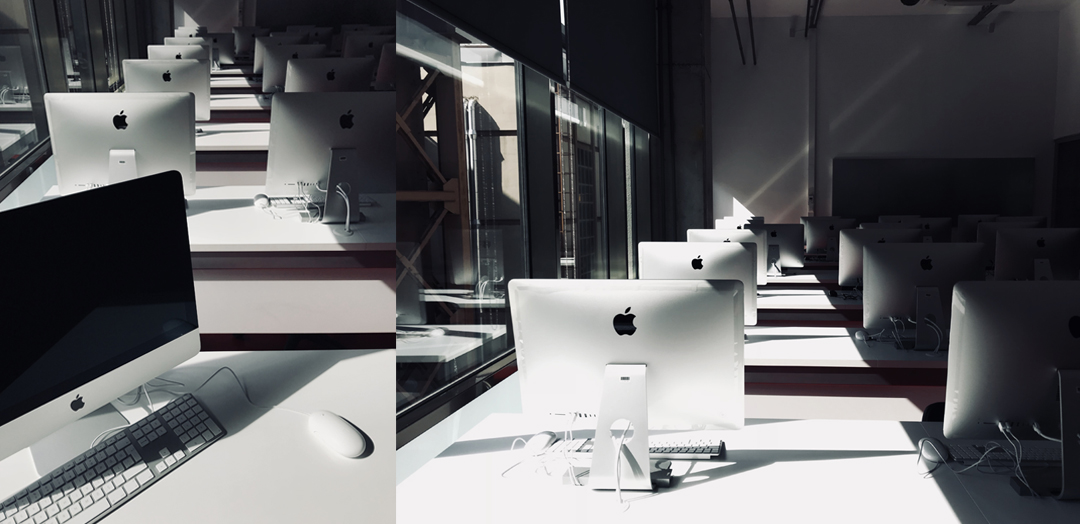 Mac Lab
For the needs of the Faculty of Communication students, video and audio editing, motion graphics applications and post-production operations are carried out at Mac Lab with 30 iMac computers.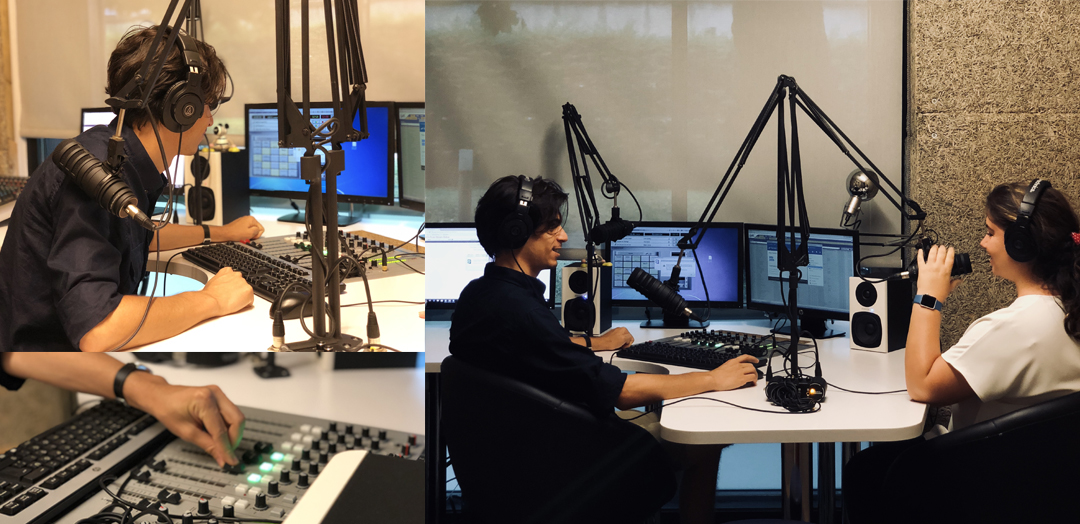 RadyoVesaire Studio
RadyoVesaire broadcasts over the Internet via RCS. In the radio studio, which consists of an office and an archive room, students produce strategies of broadcast and create different types of live programs. Music to sports, game culture to literature, many programs are broadcasted in different languages.
Newsroom
while publishing their news online through the website of HaberVesaire. HaberVesaire internet newspaper operates in the Newsroom at santralistanbul campus with 2 iMacs, 1 professional color printer, sound recorders and camera sets.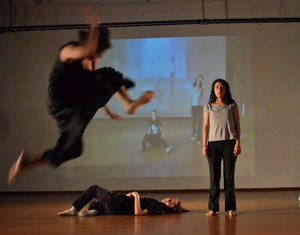 Black and White Studios
The Black and White Studios, Management of Performing Arts Degree Program offers a special workshop and workshop area for students who specialize in Performing Arts. In both dance studios, performances can be prepared, recorded and presented live to the audience. Dance Studios have dressing rooms and showers.
Insight Lab for Qualitative Research
Interdisciplinary research laboratory was established to promote qualitative research in both the academic and private sector. Insight Lab has the appropriate technological equipment (one-way mirrored studio, professional / wireless listening system, audio and video recording) to make the in-depth interviews with 4-8 number of participants and focus group discussions. In addition, the lab offers undergraduate and graduate – doctoral students the opportunity to practice qualitative methods in research methodology courses. Insight Lab's interdisciplinary nature, under the coordination of the Faculty of Communication, provides cooperation with all faculties and departments.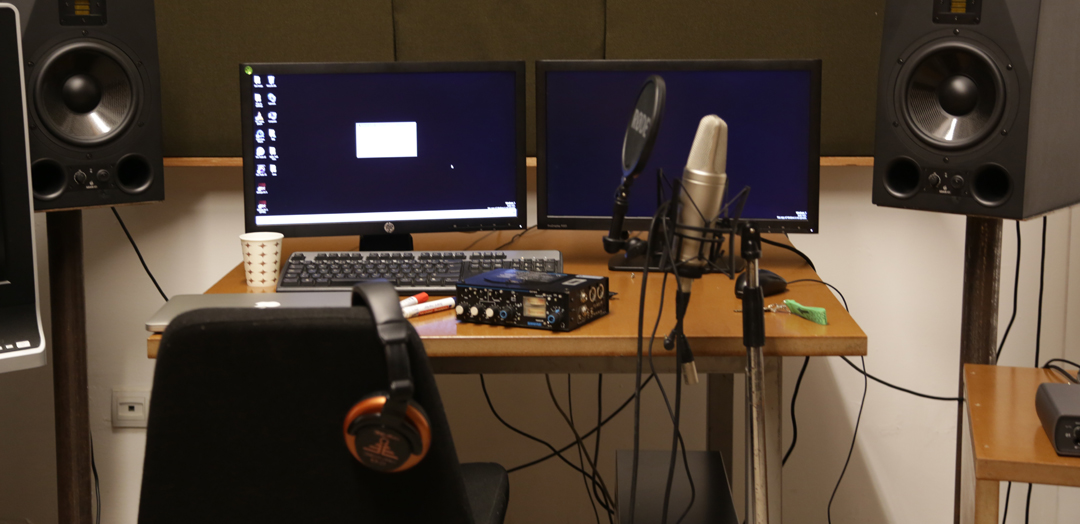 Dubbing and audio editing studio
In the acoustic studio, equipped with the Pro Tools Audio Recording, Editing and Production System, students can perform dubbing and sound mixing.
Equipment room
This room hosts 25 Full HD video cameras, 30 still cameras (4 Canon Mark IV, 3 Canon Mark III, 12 Canon 700D, 5 Canon 600D and others), 2 drones and 7 GoPro for use in the hands-on course projects of the students of the Faculty of Communication. Additionally, it hosts in-studio and outside ARRI lights, light accessories, microphones, sound recorders. At the same time the unit where the maintenance and repair of the equipment is made has the capacity to meet all the technical needs of the students of the Faculty of Communication.
Audiovisual Archive
Cinegy's archive storage & retrieval tool and computer based broadcast system is hosting BBC Turkish Service's and Istanbul Bilgi University's audiovisual archive. Faculty of Communication students are invited to make use of this huge archive.
TV Production Unit
TV Production Unit is responsible of keeping all the studios of the faculty up to date, management of equipment room, providing support to students on their production and post-production needs. The unit is also managing online reservation system for the technical equipment lending (https://booking.bilgi.edu.tr). The TV Production Unit also provides content and technical support for the junior student screen tvsantral set up by the students of the Communication Faculty.