Educational Environment
santralistanbul
All of the courses and workshops of Faculty of Architecture are held at santralistanbul Campus.
Architecture and Design Talks
Various talks on architecture and design are published on April and May 2019, on the RGB TV of Faculty of Communication. Click to watch the program videos.
Workshops of Faculty of Architecture

The architecture unit at santralistanbul Campus has been home to architecture studies since the academic year 2007-2008. These studies focus on workshop and design education. BİLGİ Faculty of Architecture is one of the few schools of architecture that provide every student with an individual desk and workshop space.
The workshop has been designed to allow students to create customized spaces for individuals or groups. In these spaces, students create environments where they can spend their time on campus, and work on projects and prepare for courses and seminars. At the graduate workshop, students have dedicated personal computers which they can use throughout their studies.
BİLGİ.MAKE Production Laboratory (Maker Lab)
The Architecture Workshop features a model and printing workshop that provides 3D modelling and digital copying possibilities. Students are expected to use these modern modelling facilities intensively, making it an inseparable part of their workshop and design studies. A computer-aided production lab is available for this purpose. In addition to various hand-tools and machinery, the lab offers laser cutters, CNC routers, 3D printers and a vacuum shaping machine, and is actively used by all students.
http://yap.bilgi.edu.tr
Computer Laboratory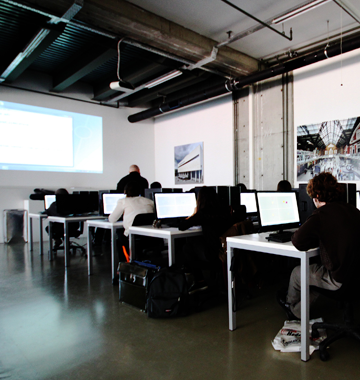 In addition to workshops, the faculty also offers a lab exclusively designed for students of the architecture programs. This lab is connected to the printing and modelling workshop, and offers 40 computers equipped with the latest software and hardware.
Library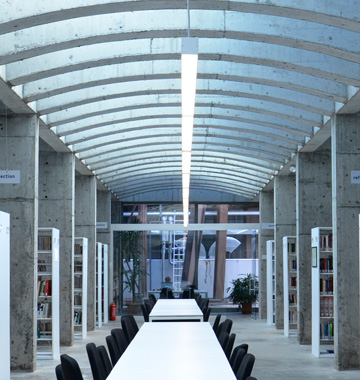 Latif Mutlu Library at santralistanbul Campus compromises a wide range of resources on architecture. Besides printed resources like books, magazines, etc. audiovisual archives are available on digital platform.
https://library.bilgi.edu.tr/